Athens Administrators, a Third-Party Administrator (TPA), is out of compliance with California workers' comp law.
California law mandates claims administrators must accept electronic bills for all treatment provided to injured workers. Yet Athens and its clearinghouse, Data Dimensions, established a system that prevents Athens from accepting e-bills for injured workers covered by certain Athens-administered employers.
This lack of e-billing forces providers to send paper bills to Athens for those employers.
Each instance in which Athens cannot accept an e-bill is a violation of the law, and a significant inconvenience for providers — for whom the consequences of any non-compliance with billing laws is automatic denial of payment.
daisyBill emailed Athens to request that the TPA work with Data Dimensions to develop a compliant system to accept e-bills for all Athens-administered employers. The Athens representative replied, "I confirmed with Conduent and Accuro [Athens' bill reviews], and we cannot use a master roll up [aka Payer ID] for all bills. I wish it was easier."
On behalf of our providers (who "wish it were easier" to send Athens an e-bill), daisyBill filed 5,985 formal Audit Complaints with the Division of Workers' Compensation (DWC) to report the non-compliance. 
We urge the DWC to remember that when providers break the rules, monetary penalties almost always result.
Athens: Making e-Billing Impossible
As we detailed in this article, a provider's e-billing software needs two components to successfully transmit an e-bill:
The claims administrator's

clearinghouse

, which accepts and responds to e-bills on the claims administrator's behalf, and

The

Payer ID

that the clearinghouse assigned

to the claims administrator.
Data Dimensions is Athens' designated clearinghouse. But instead of assigning Athens a single Payer ID that providers use to transmit e-bills to Athens, Data Dimensions maintains a list of 139 separate Payer IDs for Athens-administered employers. There are two glaring problems with this system:
Athens administers claims for more than 139 employers.

 

If the employer is

not

 on Data Dimensions' list, there is no Payer ID — and therefore

no way for the provider to send an e-bill to Athens

 for that employer.

 

This leaves paper billing as the only option.
Each employer is assigned its own unique Payer ID.

 

In order to electronically submit a bill to Athens, t

he provider must somehow determine the unique Payer ID (out of a list of 139) that Data Dimensions assigned to the injured worker's employer.
5,985
 Audit Complaints Filed With DWC
We cannot say whether technical failures by Athens or Data Dimensions are at the heart of this debacle (or if Conduent/Accuro are to blame, as Athens claims). Regardless, the fact that Data Dimensions sees separate Payer IDs for 139 individual clients of a TPA as a tenable system is beyond us — especially when this (contorted) system fails to cover 100% of Athens' clients.
How Athens could possibly agree to have e-billing managed this way is also beyond understanding (even Tristar and Jopari's half-baked system comprises only two Payer IDs).
Athens should remember that the claims administrator is legally responsible for accepting e-bills, even if the clearinghouse fails spectacularly in facilitating compliance. As such, daisyBill submitted 5,985 Audit Complaints to the DWC, representing each bill daisyBill was forced to fax to Athens in 2022.
Audit Complaints are the only way to pursue anything resembling justice for this debacle. While Athens may summarily deny payment to providers who fail to adhere to any billing requirements — like timely filing of bills and appeals, appeal procedures, proof of authorization, Medical Provider Network membership, reporting, and much more — Athens will only face consequences if providers (or daisyBill) take action.
How daisyBill Navigates Athens' Non-Compliance
As longs as Athens/Data Dimensions continues its current, convoluted system, daisyBill software makes determining the correct Athens Payer ID as painless as possible for providers:  
When the provider selects Athens as the claims administrator, daisyBill prompts the provider to select the injured worker's employer's name.

If a name is selected, daisyBill transmits an e-bill to Data Dimensions using the correct Payer ID assigned to the employer.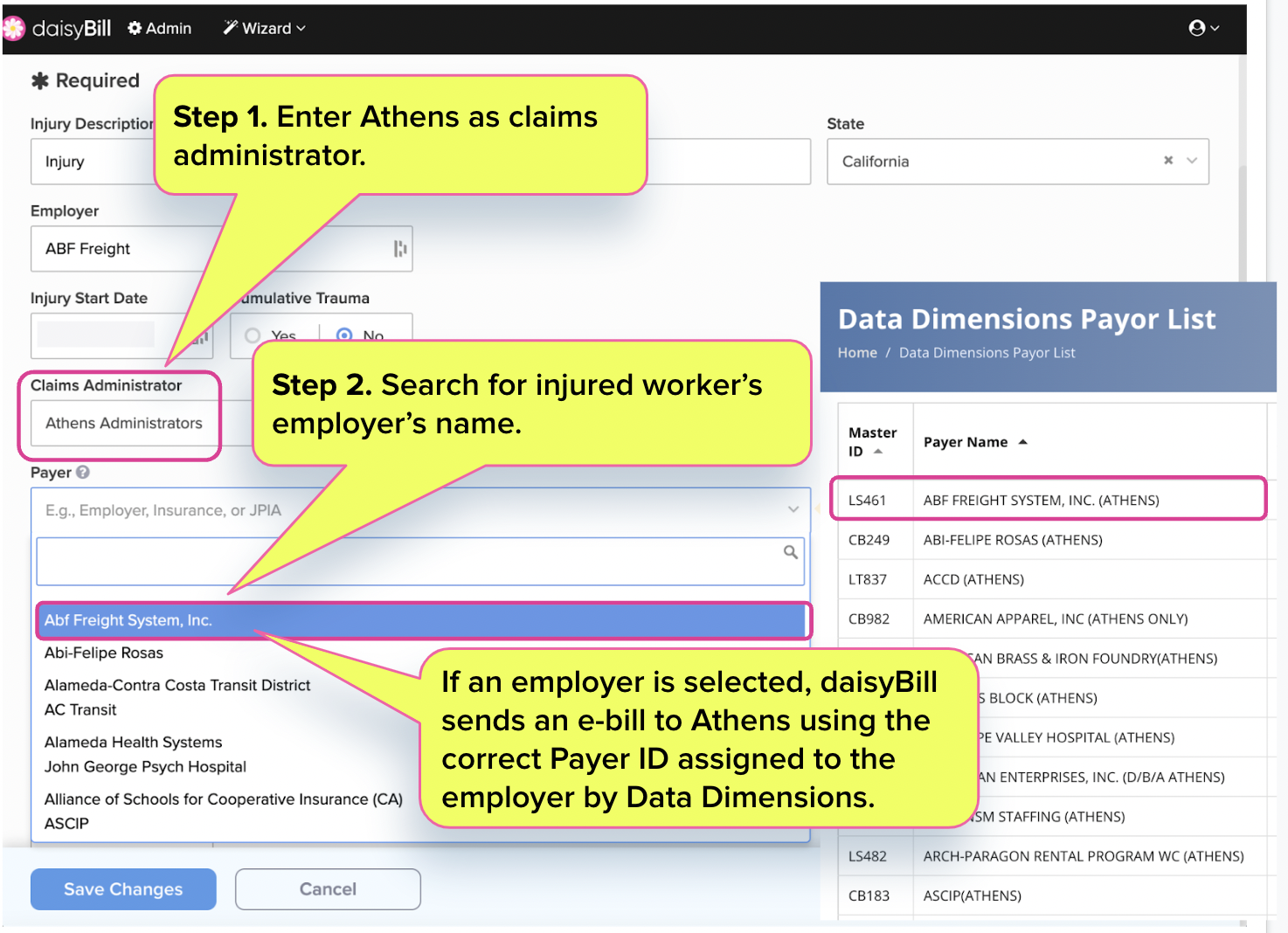 Of course, as described here, some employers are not on the Data Dimensions list — and therefore, do not have a Payer ID. For these unlisted Athens' employers, the provider selects 'Not Listed.' daisyBill then transmits these bills to Athens via fax.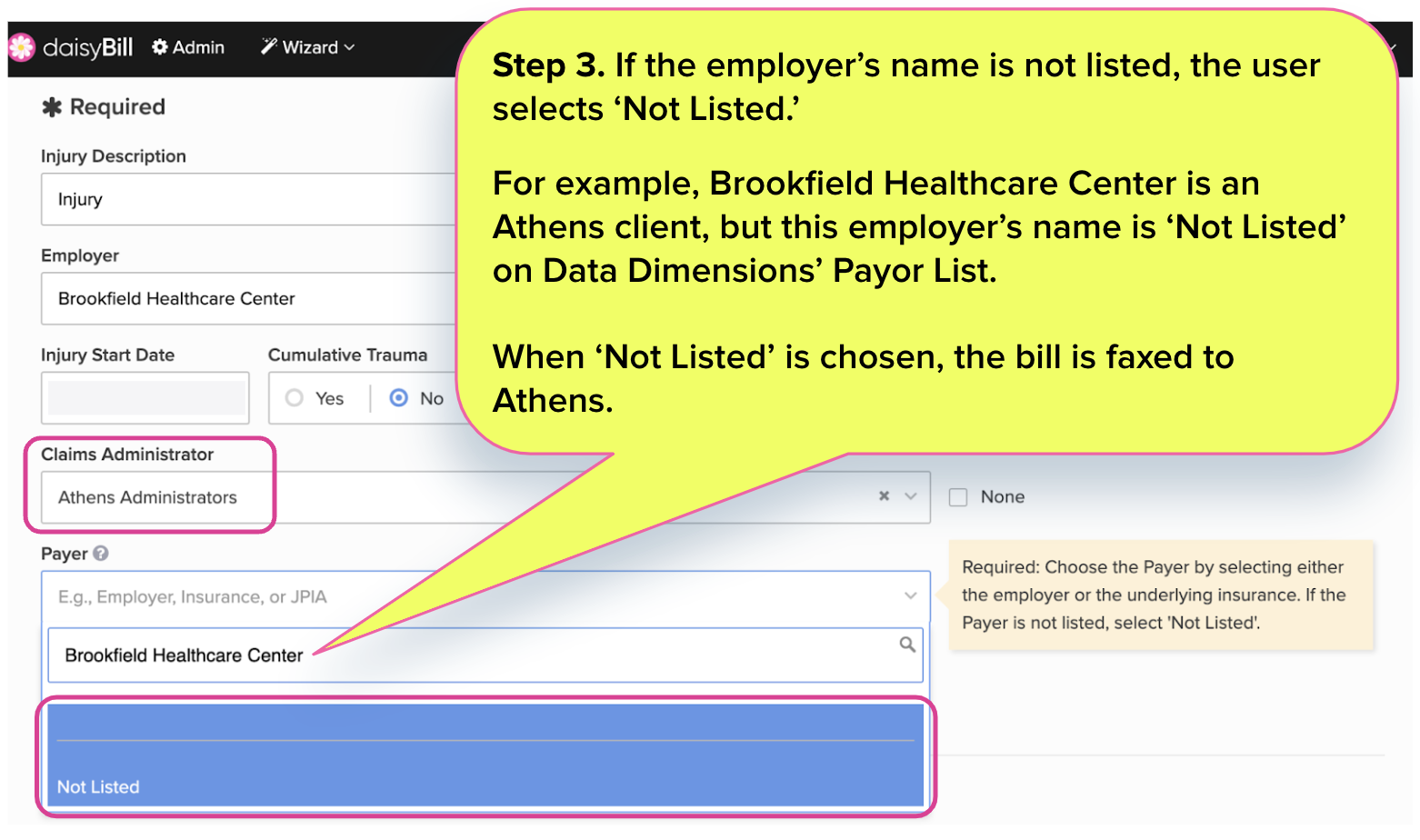 Again: when providers fail to meet each and every e-billing requirement, the claims administrator is allowed to reject or deny the bill out of hand. This double standard, in which providers must operate at 100% compliance at all times or face immediate and automatic consequences, is emblematic of the imbalance in enforcement of workers' comp law.  
Accepting e-bills for workers' comp is not optional in California. We hope the DWC makes that exceedingly clear to Athens.
---
Protect your practice. Harness the power of daisyBill software, data, and expertise for faster, better workers' comp billing. Reach out to learn how we can help.