In workers' comp billing, some procedure codes are trickier than others.
Two of the best examples are CPT codes 99358 and 99359, used by providers to report prolonged non-face-to-face service, on a date other than the date on which the provider conducted Evaluation and Management services.
Claims administrators regularly improperly deny payment for CPT 99358 and 99359, necessitating Second Review appeals — and often, requests for Independent Bill Review (IBR). Below, we share exactly what providers must do to successfully appeal such denials (with a bonus video explaining how to do so in seconds).
Second Review Appeal: Disputing Denials for CPT 99358/99359
To convince the claims administrator (for a Second Review appeal), or the Division of Workers' Compensation (DWC)'s IBR organization, Maximus, that reimbursement for CPT 99358 and 99359 is warranted, the provider must include two critical elements in the medical documentation submitted with the bill:
The exact time spent on prolonged non-face-to-face services,

and

How exactly the provider spent that time, e.g. reviewing medical records
If the above information was not included in the original supporting documentation, the documentation must be updated before resubmitting the bill to the claims administrator for Second Review.
See the video below for details (and important tips) on how to submit a Second Review appeal for CPT 99358 and 99359 in California and elsewhere — in less time than it takes to share this blog post with your fellow workers' comp professionals:
Independent Bill Review (IBR): Disputing Denials for CPT 99358/99359
If the claims administrator stands by its payment denial, even with the appropriate documentation outlined above, it's time to take the matter to the state.
Fortunately, Maximus has a solid record of overturning improper denials of payment for CPT 99358 and 99359 — in 2022 alone, California providers won reimbursement for these procedure codes dozens of times via IBR.
For example, see the IBR decision below — one of many available in the public record — in which Maximus ordered the claims administrator to pay in full: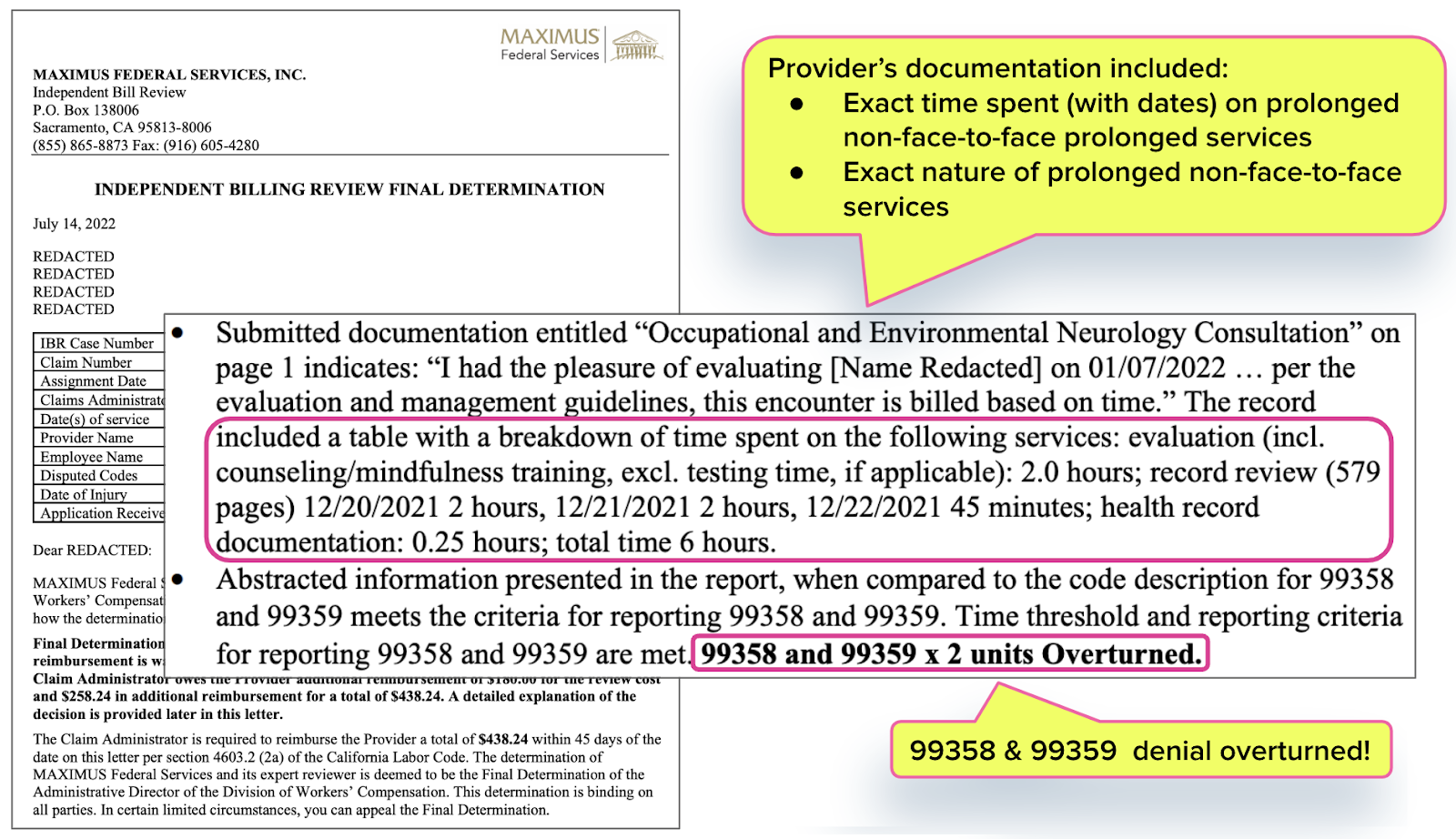 With the right details in your documentation, there's no reason to fear unreasonable denials for these procedure codes. The regulations (and daisyBill) are on your side.
---
Workers' comp can work for providers. daisyBill software, data, and expertise makes billing easier, faster, and less costly. Request a free demonstration below.