On January 5, 2022, the Centers for Medicare and Medicaid Services (CMS) released revisions to the list of Medicare Physician Fee Schedule Telehealth Codes.

In turn, and in compliance with California Labor Code Section 5307.1, the Division of Workers' Compensation (DWC) updated its recent order adjusting the Official Medical Fee Schedule (OMFS) for Physician and Non-Physician Practitioner Services for 2022.
The update adopts the CMS revised Telehealth List and applies to all services provided on or after January 1, 2022.
Retroactive Effects
For California workers' comp providers, these key changes are worth noting:
Deleted: HCPCS code G0424

(pulmonary rehab with exercise)

Telehealth Eligible: CPT codes 94625 and 95626

(professional services for outpatient pulmonary rehabilitation)
According to a recent Newsline, the "other provisions of the December 23, 2021 calendar year 2022 update order have not been revised and remain in effect."
The Easiest Way To Ensure Compliant Telehealth Billing
DaisyBill makes it easy for physicians to follow best telehealth practices in the world of California workers' compensation.
The daisyWizard Fee Schedule Calculator renders immediate, current reimbursement rates.
All DWC-sanctioned OMFS revisions are represented in daisyBill, daisyAuth, and daisyWizard, including the adoption of CPT 94625 and 95626, as seen below.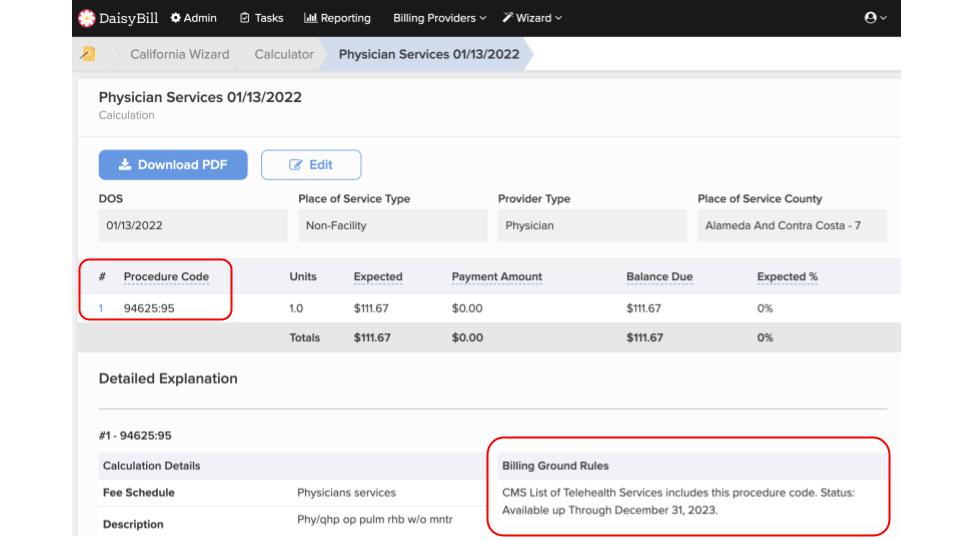 Adding the required modifier 95 to the Procedure Code marks a service as performed via telehealth. The 'Billing Ground Rules' section under 'Detailed Explanation' verifies that the modified procedure code is included in the CMS List of Telehealth Services.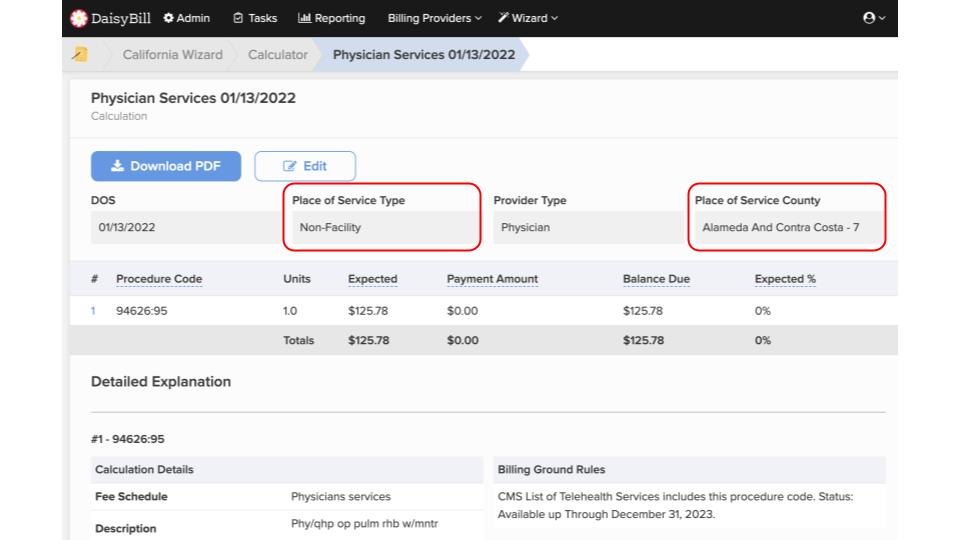 Also worth noting: while the 'Place of Service Type' is Non-Facility, the 'Place of Service County' is the same location that would normally apply if the medical service were provided in-person.
---
When the OMFS updates, so does daisyBill. We'll keep track of the nitty-gritty details of workers' comp so you don't have to. Try the daisyWizard OMFS Calculator free today.