DaisyBill came into 2017 with a clear mission: to make workers' comp simple for the California medical billing community. That goal drives our team every day, and we're pleased to have taken so many steps early on this year. We redesigned our website and added valuable insights about billing and payment compliance. We're hosting a conference dedicated to work comp billing this September. And we introduced a slew of new features. Today, we're ready to unveil the latest: Multiple Bill Calculations.
Our 'Multiple Bills' feature is the newest addition to the DaisyBill Work Comp Wizard. It allows our users to calculate the total reimbursement for multiple bills, including across different fee schedules and dates of service. This feature makes it easy to stay organized – users can view and print a detailed explanation for each bill individually, as well as a summary of all bills.
The Work Comp Wizard supports six separate fee schedules:
Physician Services

Pharmacy – Single Prescription

Pharmacy – Compound Pharmaceuticals

Pathology and Clinical Laboratory

Durable Medical Equipment, Prosthetics, Orthotics, and Supplies

Copy Services
Each time a user calculates reimbursement for a bill, our software asks for several critical pieces of information:
The fee schedule

The date of service

The type of provider who rendered services

The procedure code or codes, along with any modifiers

The reimbursement allowed

by the claims administrator as reported on an explanation of review (EOR)
From that information, our OMFS Calculator determines the total balance due in three seconds or less – now for as many bills as you need to enter.
Put it all together and it looks like this: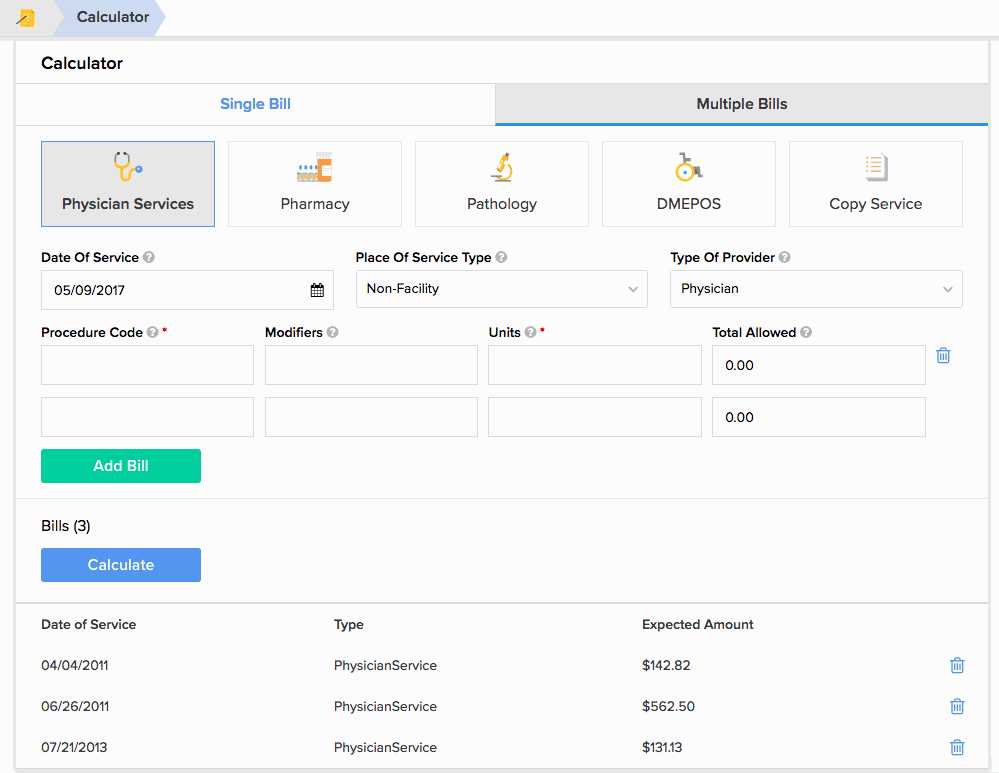 Simple. To learn more about the Work Comp Wizard, click the button below and start a free three-day trial. You'll get instant access to our OMFS Calculator – and a host of other work comp tools.