Berkshire Hathaway Homestate Companies (BHHC) continues to fail to compliantly process valid Second Review appeals submitted by California doctors to dispute erroneously denied or underpaid workers' comp bills.
BHHC ignored our recent post on the issue, Berkshire Hathaway Refuses 892 Second Review Appeals, published on December 07, 2021. BHHC also ignored subsequent emails from DaisyBill demonstrating the extraordinary scope of BHHC's noncompliance.
By refusing to process the Second Review appeals and failing to send Explanation of Reviews (EORs), BHHC leaves these doctors unable to request Independent Bill Review (IBR). California regulations forbid a doctor from requesting IBR to dispute an incorrect payment unless Second Review has been conducted, and a final EOR issued by the claims administrator.
In other words, BHHC's failure to comply with state regulations contorts the IBR process, by locking providers out of the appropriate recourse (IBR) for recovering what's owed per the Official Medical Fee Schedule (OMFS).
Folks, it's just another day in California workers' comp.
Doctors adhere to California workers' comp laws, while BHHC ignores the same laws with impunity. Unfortunately, this all-too-familiar story of unpunished bad behavior demonstrates the extraordinary payment abuse that California allows claims administrators to inflict on the providers who treat injured workers.  
Medata (Falsely) Claims
 Special "Workflow"
In response to the publication of the above-noted article, the bill review vendor for BHHC, Medata, sent DaisyBill an email falsely asserting some kind of special agreement which allowed Medata (on behalf of BHHC) to conduct an alternative Second Review process.
Medata claimed that a "mutual workflow process" exists between DaisyBill and Medata which somehow exempts BHHC from compliantly processing valid Second Review appeals sent by our clients. A Medata representative claimed:
"My understanding of the blog indicates these 892
[at the time]
 Second Review items as failing to observe our mutual workflow process…and thus remain 'open' without closure."
To be clear: No such "mutual workflow process" exists between DaisyBill and Medata, BHHC, or any other claims administrator, bill review, or clearinghouse.
California Labor Code Section 4603.2 and the Division of Workers' Compensation (DWC) Medical Billing and Payment Guide dictate that electronically submitted Second Review appeals must be acknowledged within 2 days of receipt. BHHC must electronically issue a final Explanation of Review (EOR in 835 format) within 14 days of receipt of the Second Review appeal. Full Stop.
BHHC Ignores Appeals (And Ignored Appeals Pile Up)
DaisyBill closely monitors the Electronic Data Interchange (EDI) data generated by our billing software, including the receipt of each EOR for each bill (and appeal) doctors submit. In November, BHHC's pattern of rejecting compliant Second Review appeals came to our attention.
After publishing the previous article, Second Review rejection after rejection continued to pile up. DaisyBill directly emailed 14 BHHC representatives to notify the insurer of the growing scale of the insurer's noncompliance.
We sent the following message on December 13, in an attempt to help BHHC end the improper rejections and come into compliance: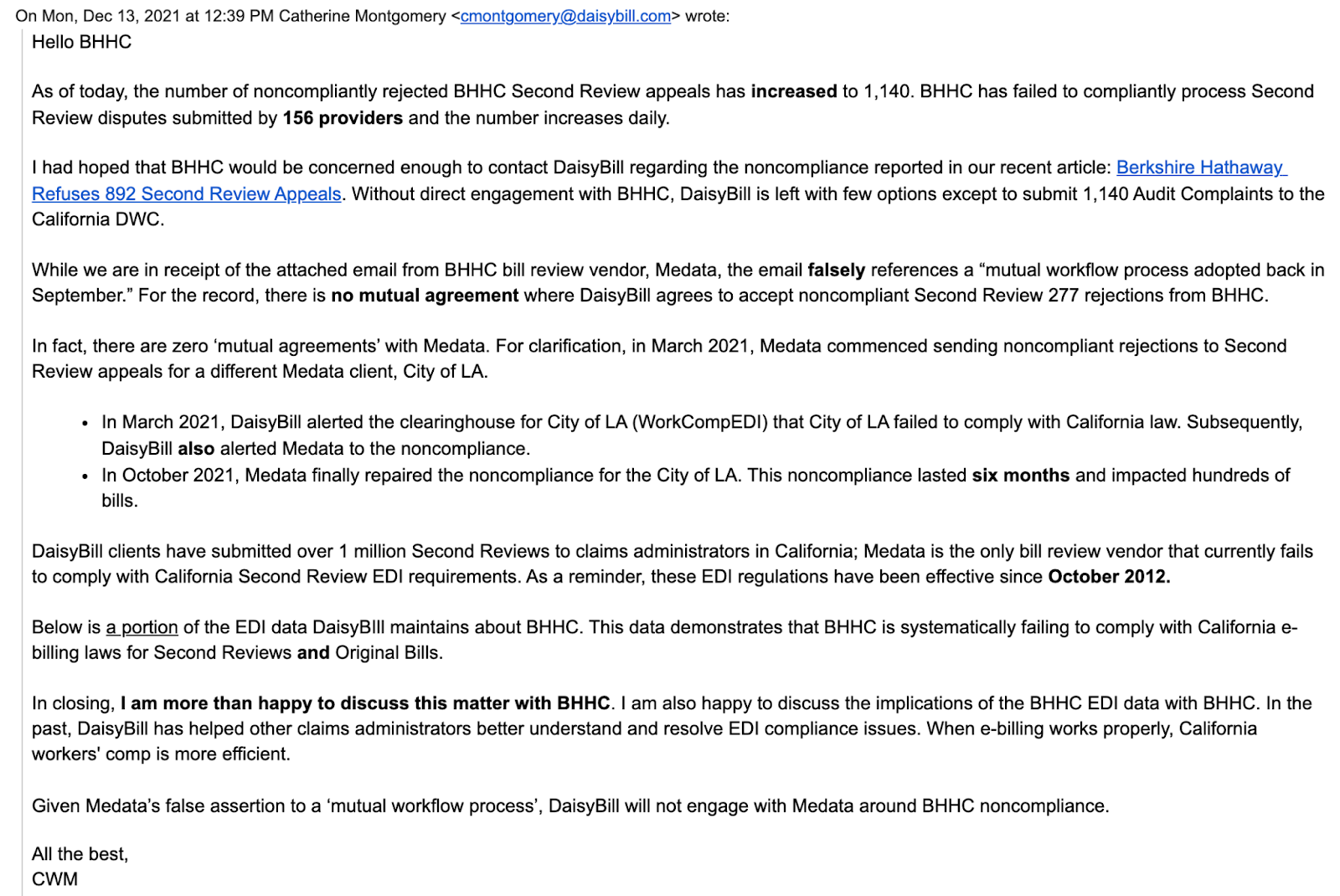 Worth noting: the email incorrectly asserts that "Medata is the only bill review vendor that currently fails to comply with Second Review EDI requirements." Admittedly, this is an incorrect statement, as other claims administrators fail to comply with EDI requirements concerning Second Review appeals.
That said, BHHC and Medata are the only duo accepting, then rejecting, then admitting to deleting Second Review appeals sent by our providers.  
The email DaisyBill sent to BHHC included a graph similar to the one below, demonstrating that a pattern of improper Second Review appeal rejections escalated in November 2021.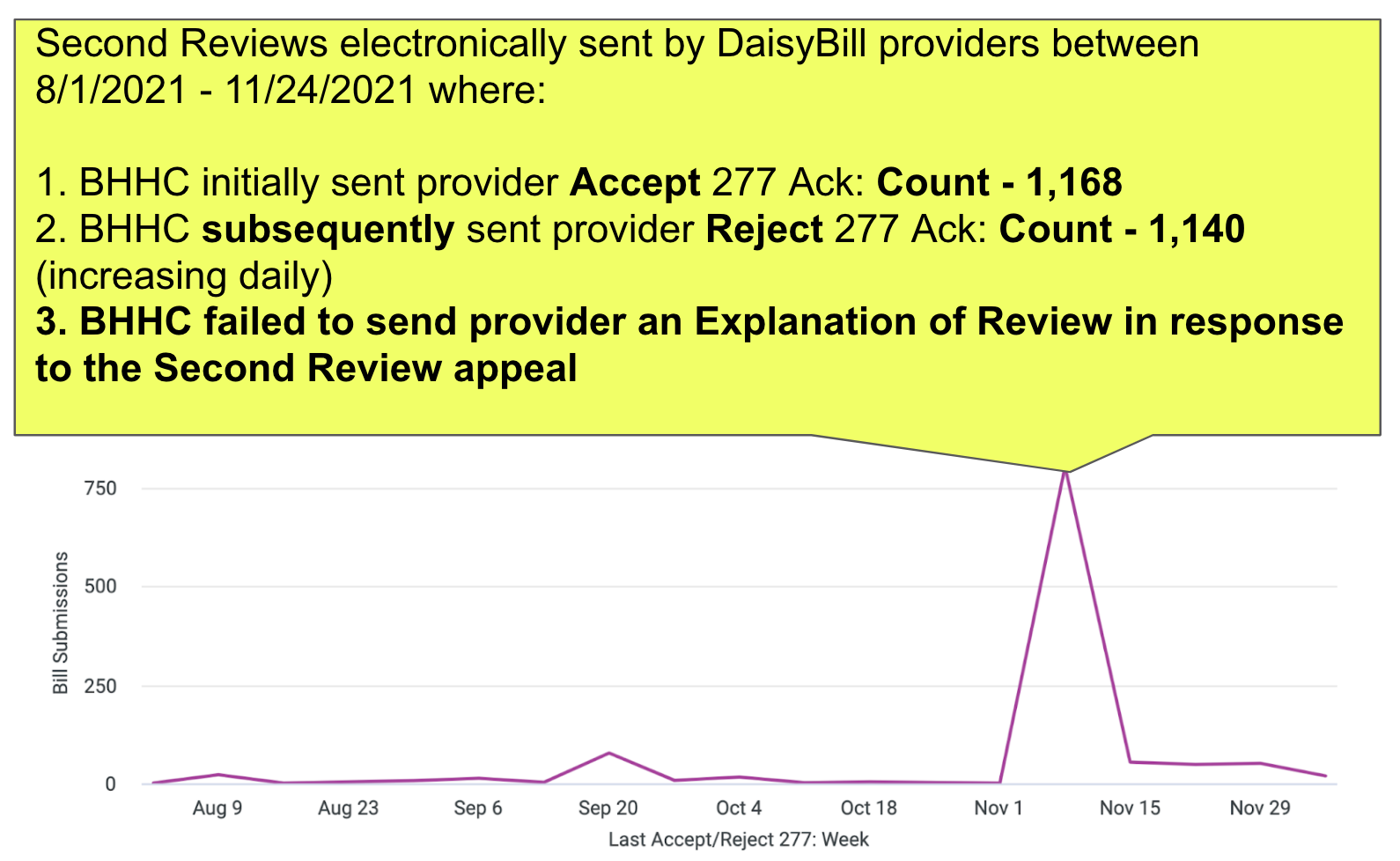 Whatever the cause, the fact remains that this systemic issue of failing to respond to Second Review appeals enriches BHHC. Without an EOR from BHHC, providers cannot file for IBR to dispute the incorrect reimbursement.
The result: providers (for now) simply have to accept incorrect reimbursements, often far below the amounts allowed by the OMFS.
DaisyBill Reaches Out to BHHC Again
BHHC ignored the email above, just as surely as it ignored the laws of which the email was intended to be a reminder (perhaps because the DWC has a habit of ignoring noncompliance). The count of improperly rejected Second Review appeals continued to climb, reaching around 1,700.
On December 23, 2021, DaisyBill sent a second email to the same 14 BHHC representatives.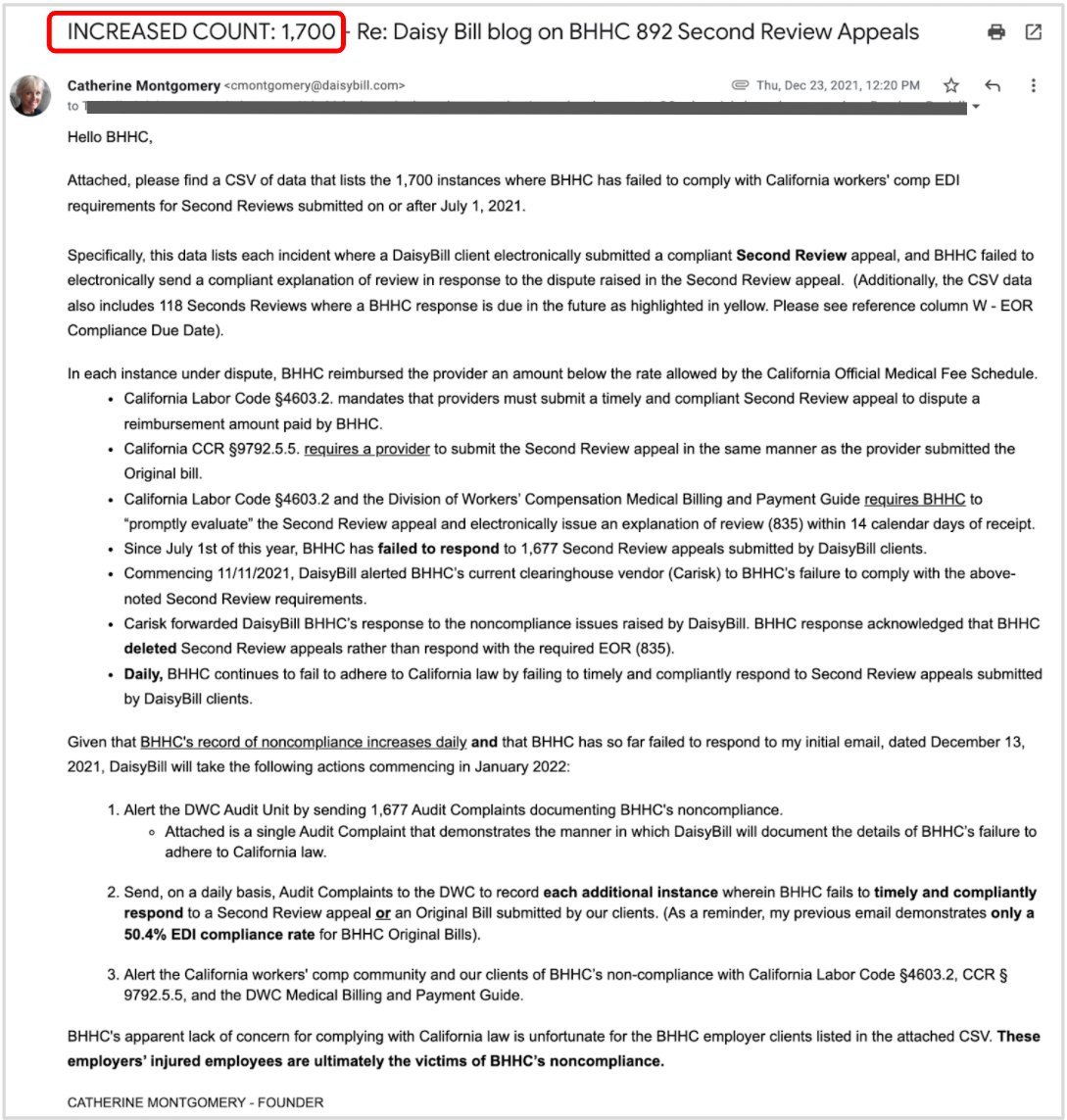 Attached to the email was a spreadsheet with the details of each Second Review appeal for which BHHC failed to send an EOR, as required by state regulations. Also attached was a single Audit Complaint example, with precise details of BHHC's improper claims handling.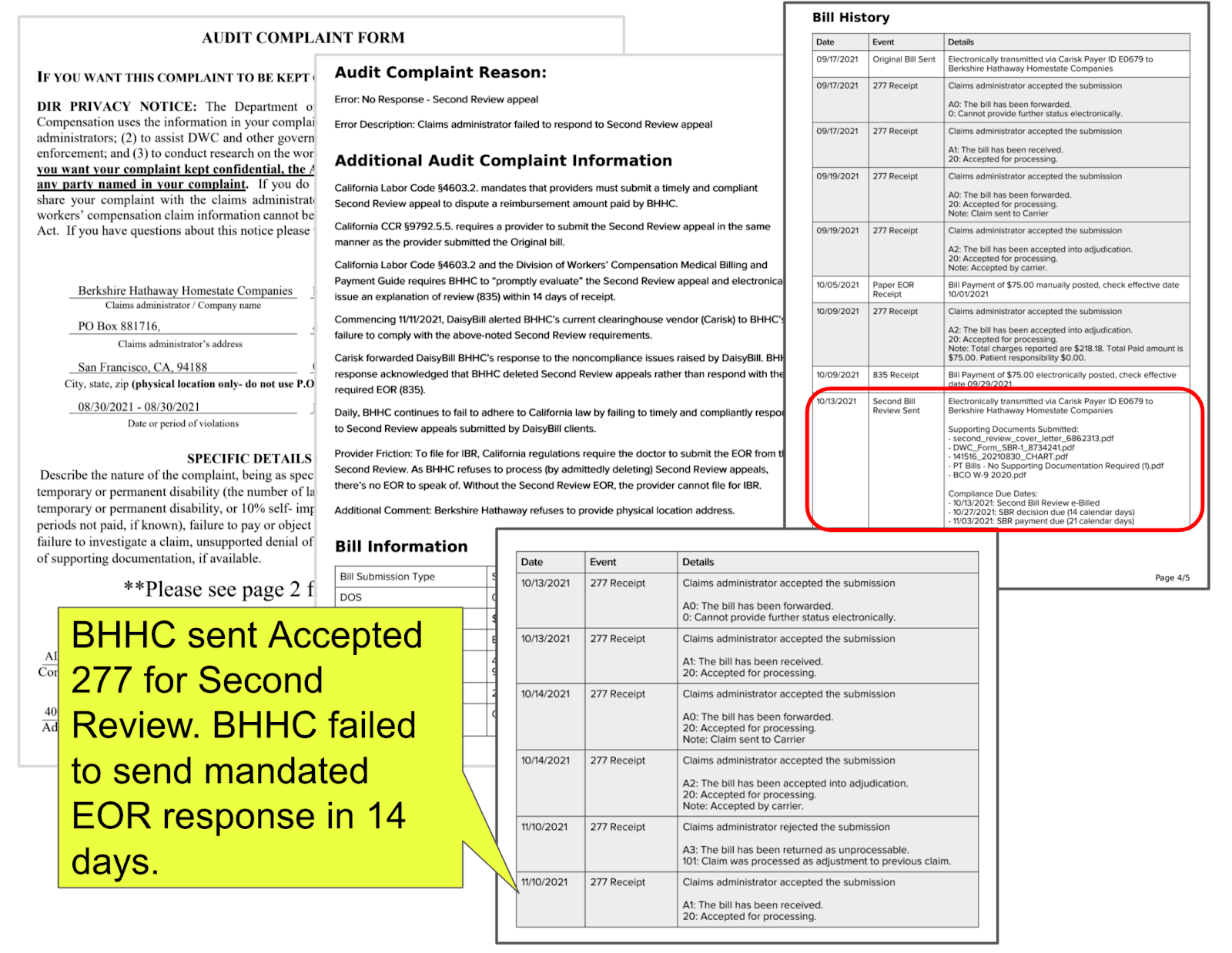 2,240 Second Review Appeals Ignored by BHHC
BHHC continues to ignore literally thousands of timely, compliant Second Review appeals sent by providers to dispute incorrect reimbursements; as of January 10, 2022, the number of ignored appeals has increased to 2,240 (and climbing).
The regulations and rules for e-billing have been in effect for almost 10 years, since October 2012. Insisting that BHHC comply is not a huge ask; when providers fail to adhere to the regulations, BHHC can simply deny payment. The same standard of compliance should apply to both sides of the billing and payment equation.
As noted in the second email sent to BHHC, DaisyBill will be sending the DWC Audit Unit a complaint for each instance in which BHHC failed to comply with California Second Review laws and regulations. Our data clearly demonstrate BHHC's noncompliance, as will the content of the Audit Complaints.
Electronic billing for workers' compensation is the best way for California providers to firmly demonstrate systematic payment abuse. With electronic billing, providers no longer have to rely on anecdotal evidence of systemic disregard for the law, like that displayed by BHHC. Instead, electronic billing provides hard data as evidence of BHHC's blatant refusal to comply with California law.
Read the next article to learn how the California Division of Workers' Compensation (DWC) is within its power to perform a targeted audit of BHHC pursuant to California Code of Regulations Section 10106.1. Routine and Targeted Audit Subject Selection; Complaint Tracking; Appeal of Targeted Audit Selection. 
---
Make workers' comp a better investment. From fee schedule calculators to billing software to complete managed billing, DaisyBill has your back. Contact us to learn more.