Berkshire Hathaway hath a way of defying California workers' comp regulations, and refusing to pay doctors for authorized treatment provided to injured workers.
The insurer, formally known as Berkshire Hathaway Homestate Companies (BHHC), has repeatedly and egregiously failed to perform their legal duty to accept and process Second Review appeals submitted by California workers' comp doctors.
As of today, BHHC has failed to compliantly process 892 Second Review appeals.
The most galling part: once BHHC rejects a Second Review appeal, the doctor has no further recourse to pursue payment owed; Independent Bill Review (IBR) cannot be requested unless Second Review was conducted. ← Read that again, California legislators and regulators!
Unfortunately, BHHC is apparently in no hurry to properly process these Second Review appeals. Meanwhile, the revenue owed to doctors remains firmly in BHHC's pockets.
BHHC Wins the Game of IBR Chicken
In November, on multiple days (11/11/2021, 11/16/2021, and 11/29/2021), DaisyBill alerted BHHC's clearinghouse vendor, Carisk, that BHHC was repeatedly failing to process hundreds of Second Review appeals sent by providers.
Instead of complying with California law, BHHC continued to reject compliant Second Review appeals sent by doctors. According to a Carisk email, BHHC reported "deleting" some of these appeals. (DaisyBill clients, don't worry, DaisyBill keeps your Second Reviews appeals and keeps a record of all noncompliance by BHHC).
With their Second Review rejections, BHHC introduced a new dimension to the payers' game of IBR Chicken. If a payer denies payment, then fails to process the Second Review appeal, the doctor has no way to request IBR.
To file for IBR, California regulations require the doctor to submit the EOR from the Second Review.

As BHHC refused to process the Second Review appeals, there's no EOR to speak of.

Without the Second Review EOR, the provider cannot file for IBR.
BHHC is not the first or only payer that's failed to meet their Second Review obligations. But their brand of scofflawery is so glaring that it seems almost as if the claims administrator is daring state regulators to do something about it — a gauntlet we could only wish the Division of Workers' Compensation (DWC) were willing to pick up.  
BHHC's Denies Payment for Authorized TX
Throughout the state of California, rather than pay a doctor for authorized treatment, payers deny reimbursement, even on plainly dubious grounds. These denials are the logical response to a bill, because unless the provider submits a Second Review appeal, the payer gets to keep the provider's revenue by default.
True to this logic, BHHC denied reimbursement for authorized treatment as follows:
The doctor submitted an original electronic bill.

BHHC sent the doctor no fewer than 4 separate 277 BILL ACCEPTANCE acknowledgments, as proof BHHC received the original e-bill.

BHHC processed the e-bill and

denied payment.

 The paper version of the Explanation of Review (EOR) incorrectly asserts the treatment was not authorized (a common point of "friction" described in

item #1 of this post

).

BHHC failed to

 send the doctor an electronic EOR (known as an 835 file), as required by California regulations (Where's the Division of Workers' Compensation on this? Nowhere to be found.)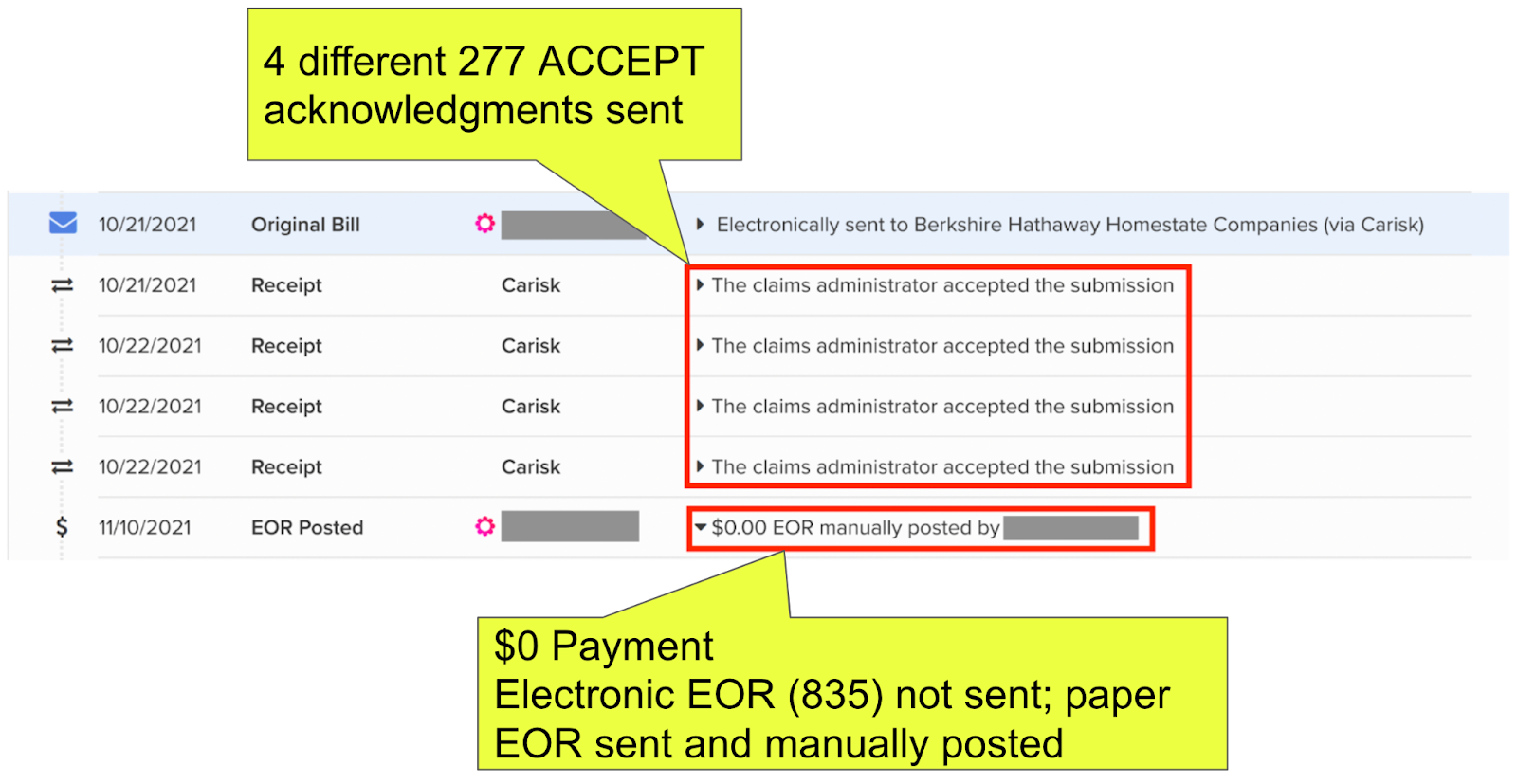 Almost immediately after receiving BHHC's denial, the doctor electronically submitted a compliant and timely Second Review appeal, with proof of BHHC's authorization attached. In response to the Second Review appeal:
BHHC sent the doctor no fewer than 4 separate 277 ACCEPT acknowledgments, as proof BHHC received the Second Review appeal.

NINE DAYS

after

 sending the ACCEPT acknowledgements, BHHC's system REJECTED the Second Review appeal as a "duplicate" of the original bill.

With this very

 late,

very

 wrong,

very

 noncompliant rejection

, BHHC

failed to

process

 the doctor's Second Review appeal.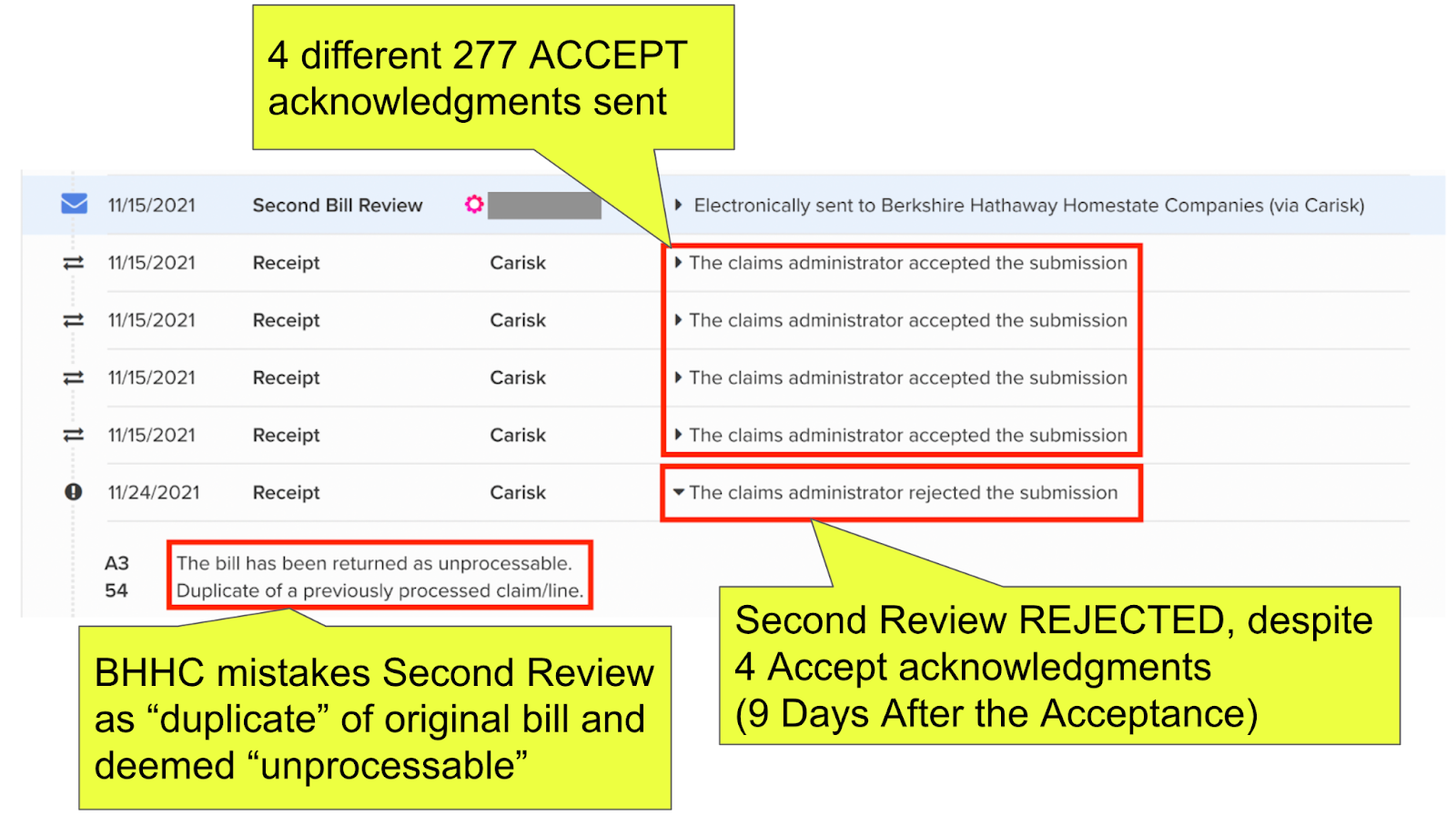 As of now, BHHC can simply keep the doctor's reimbursement, because the doctor cannot file for IBR. Again, DaisyBill has proof of BHHC rejecting 892 (and increasing daily) Second Review appeals submitted by providers.
BHHC's Second Review rejections represents a cost-free, consequence-free way to pay $0 for authorized services.
Clearly, something is very, very, very wrong with the mechanisms of enforcement of California workers' comp laws and regulations, as neither provide doctors any way to combat BHHC's defiance.
While BHHC should treat this persistent issue with the urgency it warrants, so far the insurer has not bothered to repair it…and as usual, Waldo is far easier to find than any help from state regulators.
---
Make workers' comp a better investment. From fee schedule calculators to billing software to complete managed billing, DaisyBill has your back. Contact us to learn more.