California workers' comp has many complex laws, regulations, and rules regarding billing and payment. But one law is straightforward: claims administrators must accept e-bills. End of story.
California requires e-bill acceptance to make treating injured workers more efficient and sustainable. Yet Third-Party Administrator (TPA) JT2 Integrated Resources has accepted precisely zero e-bills in 2023, forcing providers to submit bills by other (more costly and time-consuming)  means.
Non-compliance doesn't get much more blatant than this.
Currently, JT2 offers no functioning electronic billing connection for providers. The DWC has a clear duty to intervene and impose appropriate consequences. Once more for the cheap seats: No Consequences, No Compliance.
JT2: Blatantly Ignoring CA Law
California Labor Code is crystal clear: Section 4603.4 states that the Division of Workers' Compensation (DWC) "shall adopt rules and regulations to:"
Require acceptance by employers of electronic claims for payment of medical services.
That's "require," not ask, suggest, or encourage.
Accordingly, the DWC Medical Billing and Payment Guide required acceptance of e-bills, with mandatory procedures and timelines for acknowledging receipt of and responding to those e-bills electronically. There are no exceptions to this requirement, including failure to possess the necessary technology to comply; this is why claims administrators hire clearinghouses to accept e-bills on their behalf.
Clearinghouse Data Dimensions lists Payer ID numbers for JT2 e-bills (as shown on the Data Dimensions website below). Theoretically, this would indicate that providers can bill JT2 electronically.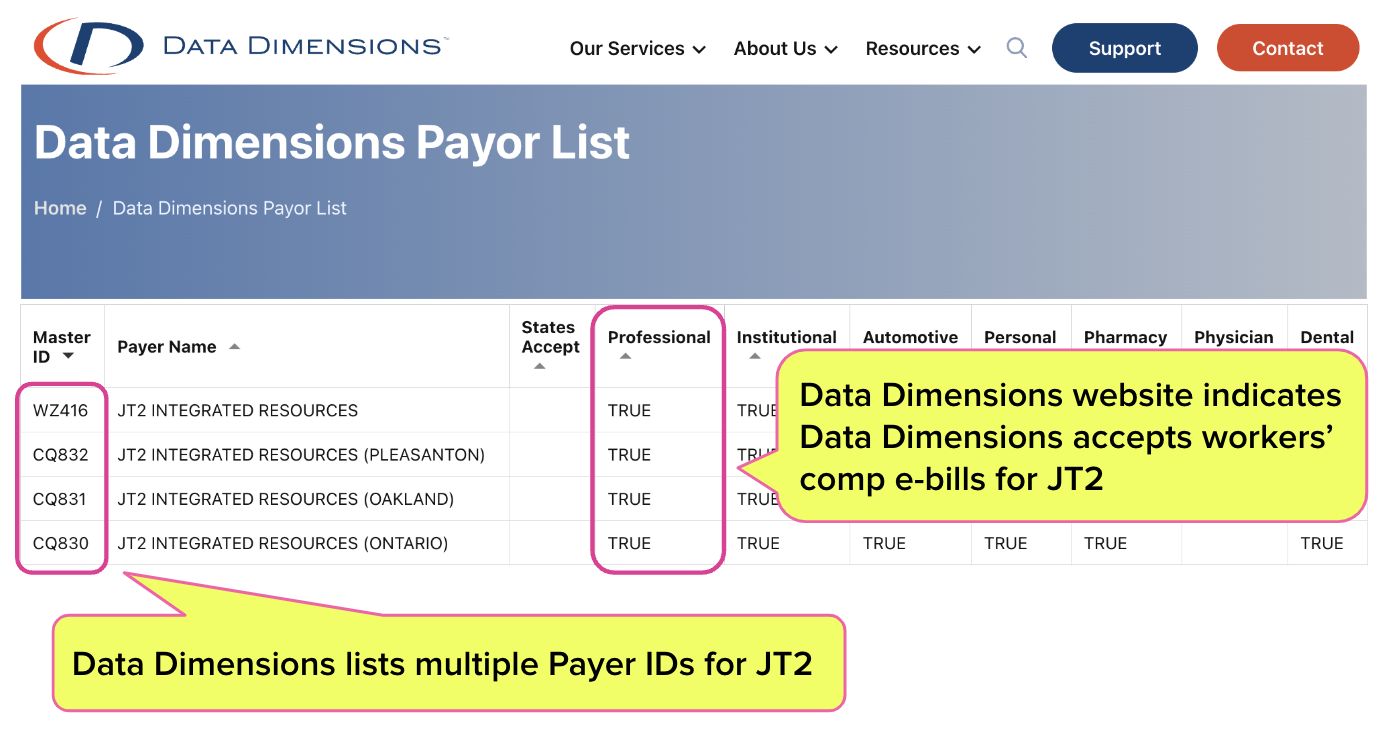 However, Data Dimensions instantly rejects every e-bill daisyBill has submitted for JT2; these Payer IDs do not work. For example, below is a fully compliant and technically impeccable e-bill daisyBill submitted to JT2, which was rejected with the rationale "PAYER NOT APPROVED FOR PROCESSING."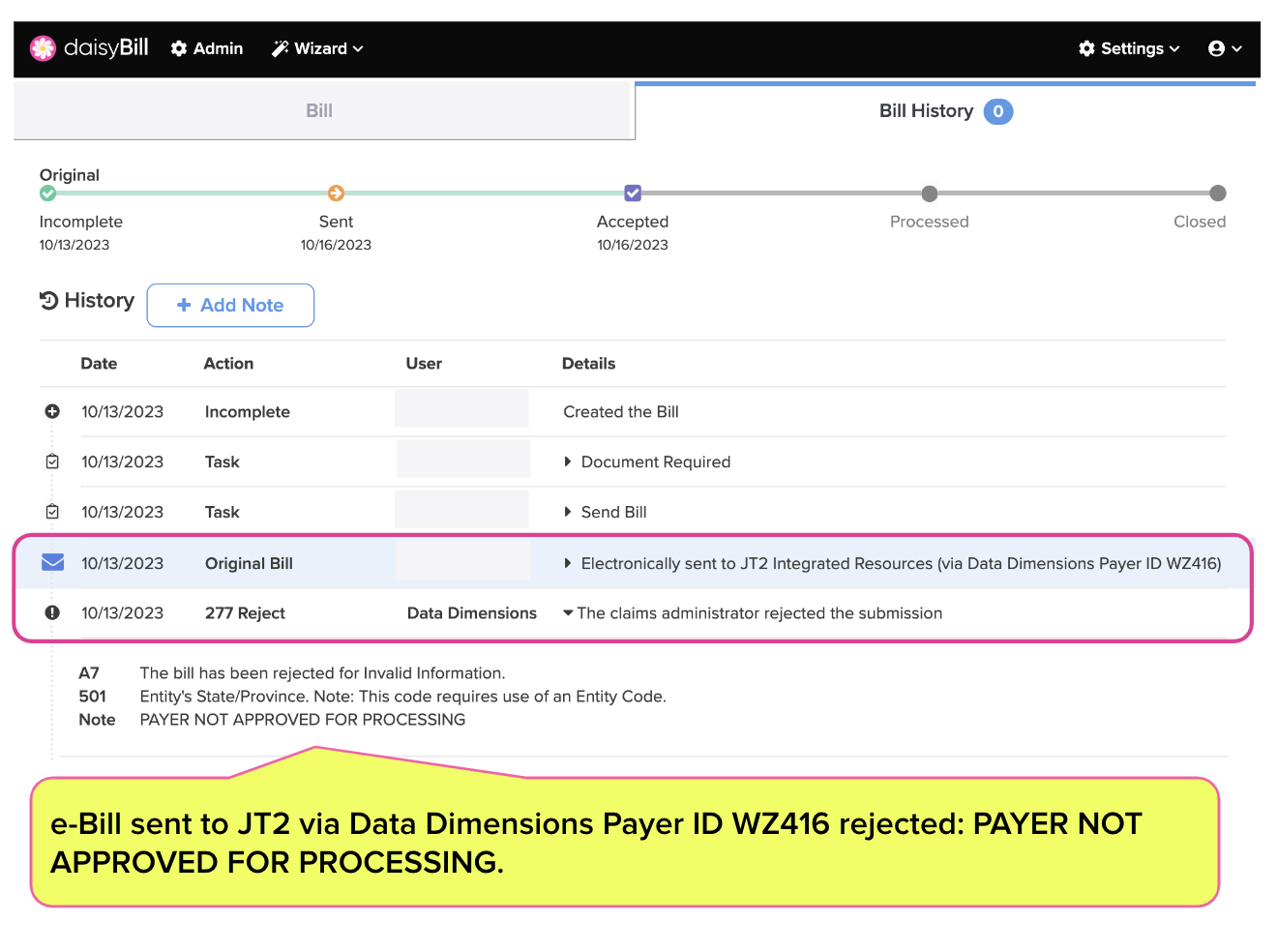 While there may be a thin facade of e-bill compliance for JT2, there is no way to send an e-bill to the TPA.
Any provider should be able to call a California claims administrator and get information for submitting e-bills, including the name of the clearinghouse and Payer ID. As shown in the call transcript below, daisyBill contacted JT2 to obtain this e-billing information.
The JT2 representative had zero e-billing information and instead (pointlessly) forwarded our representative to the voicemail box of the TPA's bill review department.
| | | |
| --- | --- | --- |
| Date & Time | Speaker | JT2 Call Transcript |
| 2023-10-26 13:06:05.2 PDT | JT2 | Thank you for calling JT2. How may I direct your call? |
| 2023-10-26 13:06:08.2 PDT | daisyBill | Hi, I'm calling from a provider's office. We bill JT2 pretty frequently and we're wondering if JT2 has electronic billing set up, either internally or with any of the clearinghouses. |
| 2023-10-26 13:06:23.2 PDT | JT2 | Like...you want the bill review email address? |
| 2023-10-26 13:06:28.0 PDT | daisyBill | Oh, no, not the bill review. I'm asking if we can send bills electronically through an EDI client or anything like that. In the electronic 837 file format, not email. |
| 2023-10-26 13:06:41.2 PDT | JT2 | Okay, it's claimsmail@jt2.com. |
| 2023-10-26 13:06:48.4 PDT | daisyBill | And that's the only thing available? There's no actual electronic billing using the EDI standard files? |
| 2023-10-26 13:06:54.4 PDT | JT2 | I can connect you over to our billing department. They can answer that. |
| 2023-10-26 13:06:58.6 PDT | daisyBill | You don't have any fact sheet available? That has the e-billing information? |
| 2023-10-26 13:07:04.6 PDT | JT2 | No. You want the fax number? |
| 2023-10-26 13:07:08.8 PDT | daisyBill | I'm sorry, not fax. F-A-C-T, like any kind of info sheet with e-billing information. |
| 2023-10-26 13:07:11.8 PDT | JT2 | Oh, yeah. Well, let me connect you with our billing department. One moment. |
| 2023-10-26 13:07:16.6 PDT | daisyBill | Okay, thank you. |
| 2023-10-26 13:07:50.2 PDT | JT2 | [Automated voicemail message] You have reached JT2 Bill Review... |
daisyBill also reached out to Data Dimensions for information, but as of this writing, we have not heard back. However, regardless of the clearinghouse, it is JT2's sole legal responsibility to accept e-bills compliantly.
Below is the formal Audit Complaint submitted by daisyBill to the DWC on behalf of our provider clients.
Audit Complaint
To: XXXXXXXX@dir.ca.gov
Subject: JT2 Integrated Resources EDI Non-compliance: X12 837 e-Bill Not Accepted - 1,906
---
Below is an Audit Complaint reporting credible data that JT2 Integrated Resources ignores California law by failing to accept bills electronically in the X12 837 format.
Since October 2012, the acceptance of e-bills has been mandated in California. JT2 has failed to accept bills electronically.
JT2's refusal to accept e-bills directly violates California law and inflicts a significant burden on California providers, forcing providers to email bills to JT2 for payment.
In 2023, JT2 failed to accept 1,906 (100%) e-bills (X12 837) from daisyBill providers as mandated by California law. Since 2019, JT2 has failed to receive 8,349 e-bills from providers.
This Audit Complaint data represents California workers' comp bills submitted to JT2 by daisyBill providers from January 1, 2023 through September 30, 2023.
As the data below indicates, in 2023, JT2 failed to accept e-bills as California law requires. Further, the historical data suggests that JT2 has made no effort to comply with California's EDI requirement that a claims administrator accept bills electronically from providers.
| | |
| --- | --- |
| 2023 Month | Bills Count |
| Jan | 217 |
| Feb | 215 |
| Mar | 271 |
| Apr | 190 |
| May | 236 |
| Jun | 233 |
| Jul | 181 |
| Aug | 174 |
| Sep | 189 |
| e-bill (837) Not Accepted Total 2023 | 1,906 |
| | |
| --- | --- |
| Year | Bills Count |
| 2019 | 1,023 |
| 2020 | 1,037 |
| 2021 | 1,546 |
| 2022 | 2,828 |
| 2023 | 1,906 |
| e-bill (837) Not Accepted Total | 8,340 |
Attached is a CSV list containing 1,906 bills providers submitted to JT2 where JT2 failed to accept the bill electronically in the X12 837 format. The attached CSV list includes the following columns:
Column L: [Bill] Transmission Date

Column H: Submission Method - This column is all 'Email' because JT2 failed to accept e-bills.

Column I: Clearinghouse - This column is BLANK because JT2 failed to accept e-bills.

Column AO: Patient Name

Column AP: Claim Number
Audit Complaint Details
This Audit Complaint Data submitted to the DWC represents a credible complaint and credible information of claims handling violations.
EDI Non-compliance: Claims administrator failed to accept an Original Bill or Second Review Appeal in the mandated ASC X12N/005010X222A1 837 format.
Effective October 2012, DWC Rule 7.1 requires the claims administrator to accept workers' comp e-bills from providers in the X12 837 format.
CCR §10106.1(c)(3) instructs that the Audit Unit "shall review and compile complaints" that indicate a claims administrator is "failing to meet their obligations under Divisions 1 or 4 of the Labor Code or regulations of the Administrative Director."
Pursuant to LAB §129, CCR §10106.1(c)(3) provides the DWC Audit Unit may target audit subjects based on: "...credible complaints and/or information received by the Division of Workers' Compensation that indicate possible claims handling violations, except that the Audit Unit will not target audit subjects based only on anonymous complaints unless the complaint(s) is supported by credible documentation.
---
We can't make
payers
 play by the rules. But we can make workers' comp billing easier, faster, and less costly. Request a free demonstration below.