Dear Sedgwick Claims Management Services,
This is a plea.
In all sincerity, and all snark aside, California workers, providers, and employers need you to do better.
As one of the nation's largest claims administrators (and by far the largest recipient of bills from daisyBill), you have an unmatched capacity to improve or degrade the entire workers' comp system — and we ask you to choose the former.
Our data demonstrate your systemic, wide-scale failure to adhere to California workers' comp payment laws and regulations. Over the last 8 months, you failed to return electronic Explanations of Review (e-EORs) for over 44,000 e-bills sent to you by providers for the treatment of injured workers. This non-compliance means you either:
Failed to pay 23% of the e-bills sent to Sedgwick, or

Snail-mailed

 paper EORs (in violation of state regulations), forcing providers to expend unwarranted time and administrative resources to compensate for your non-compliance.
It's a sad cliche: injured workers struggle to find care, because many doctors won't treat workers' comp patients. Reportedly, this is because doctors believe they can't get paid for treating injured workers. And when they do get paid, it's only after navigating an incredible amount of hassle.
Sadly, your non-compliant response to over 44,000 e-bills makes the cliche a truism — and it's within your power to change it.
As one of the largest California claims administrators, your business decisions and technical failures have a massive, negative impact.
Between January 1, 2022, and August 31, 2022, you failed to send e-EORs for 23% of the 192,799 e-bills sent via daisyBill. That's 44,899 e-bills for which the provider was either robbed of reimbursement, or of the time and resources necessary to process your payment manually.
The data below reports Sedgwick's overall e-EOR (835) compliance for January through August 2022. Most tellingly is that monthly, the '835 Missing' percentages consistently exceed 20%, meaning the data establishes a non-compliance pattern, not just a one-off or isolated failure.
Monthly receipt of electronic EORs (835s) for Sedgwick 2022 e-Bills
e-EOR (835) Compliance Description

835 Missing

% of Month e-Bill Total

835 Late

% of Month e-Bill Total

835

Compliant

% of Month e-Bill Total

835 Invalid Data

% of Month e-Bill Total

835 N/A (277 Reject & Non-EDI)

% of Month e-Bill Total

e-Bill Total

Jan 2022

Count of e-bills

5,894

27%

2,014

9%

13,405

60%

205

1%

679

3%

22,197

Feb 2022

Count of e-bills

5,515

25%

1,408

7%

13,826

64%

176

1%

721

3%

21,646

Mar 2022

Count of e-bills

6,233

24%

2,692

11%

15,689

61%

196

1%

816

3%

25,626

April 2022

Count of e-bills

5,567

23%

5,482

23%

11,791

49%

207

1%

776

3%

23,823

May 2022

Count of e-bills

5,082

22%

3,605

16%

13,669

59%

196

1%

659

3%

23,211

Jun 2022

Count of e-bills

5,530

22%

7,407

30%

10,968

44%

161

1%

799

3%

24,865

July 2022

Count of e-bills

5,032

21%

5,825

25%

11,777

50%

224

1%

780

3%

23,638

Aug 2022

Count of e-bills

6,046

22%

1,431

5%

18,907

68%

579

2%

830

3%

27,793

Totals

44,899

23%

29,864

15%

110,032

57%

1,944

1%

6,060

3%

192,799
Our data also show that Sedgwick successfully received 100% of those 192,799 e-bills.
In fact, your clearinghouses (Data Dimensions and CorVel) sent 277 Acknowledgements officially accepting 97% (186,737) of those e-bills. This is verifiable proof your organization undoubtedly receives our providers' e-bills, along with supporting documentation. Further, you sent our providers e-EORs for 72% of the e-bills submitted, comprising over 110,000 timely e-EORs and almost 30,000 late e-EORs. 
Bottom line: these e-bills are not getting "lost in the cloud."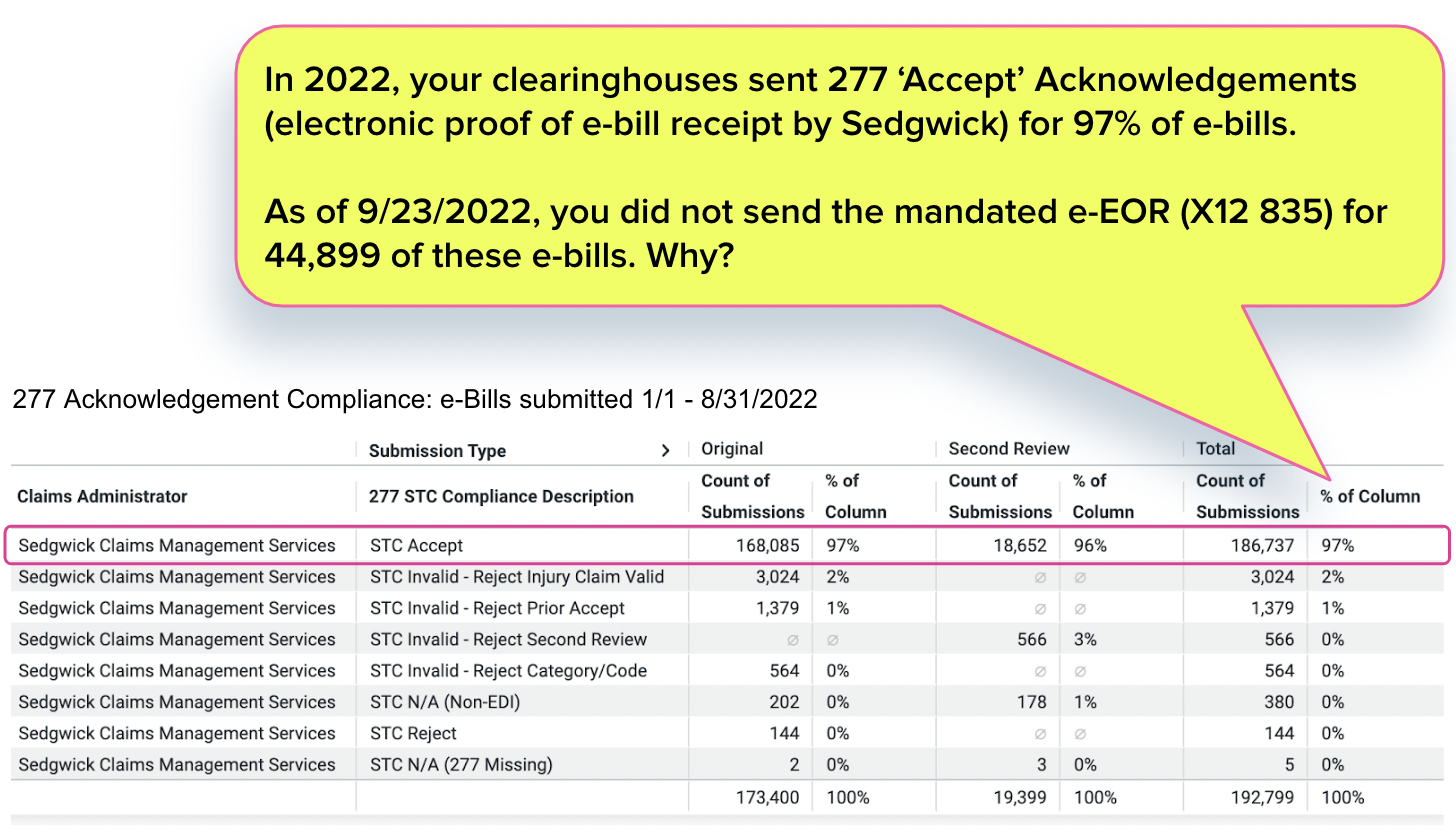 Your 837 Acceptance and 277 Acknowledgement rates are a testament to the technical competence that made Sedgwick such a powerhouse Third-Party Administrator (TPA) — a competence you have not applied to properly paying and/or responding to those e-bills. Instead, you reward doctors' choice to e-bill by wasting their time and effort; time and effort that would otherwise be spent restoring the health of injured workers.
Why make the efficiency of e-billing a one-way benefit? We can only think of two possible reasons:
You lack the technical capability to process e-bills consistently,

or

You see some advantage to Sedgwick or your employer clients in

not

 consistently processing e-bills.
As to the first possibility, it is unfathomable to think that you can't repair whatever technology consistently malfunctions each month. Other large claims administrators, including AmTrust and Berkshire Hathaway, have overcome the same problem (albeit with some prodding from us). So can you.
As to the second possibility, please understand that no injured worker or employer benefits when you take money out of doctors' pockets.
This letter is not our first attempt to impress upon you the critical importance of your compliance. We've reached out directly to you and your clearinghouse. We've shamed you on this blog, with the unchanging numbers and percentages above demonstrating your apparent immunity to shame. We have filed thousands of formal Audit Complaints, to no discernible effect.
For workers and providers across California, we are reduced to pleading — but don't do better for our sake. Do better for California employers, who trust you to handle their workers' claims. Do better for yourself; being one of the largest and most compliant claims administrators would be an accomplishment every Sedgwick employee could be proud of.
In the interest of a better workers' comp system, we will continue to track and publish your compliance data. Your footprint in our shared industry is too large — and your failures too consequential — for us to do otherwise.
And for as much justified outrage as we typically send in your direction, we cannot believe that reducing access to care for injured workers is one of Sedgwick's goals. We know you can be a force for a better workers' comp landscape in California. And you know it, too.
Know also that daisyBill is here to help you. While we generally serve providers, our technology and data is available for all stakeholders with a sincere interest in improving workers' comp.
If you reach out for help, you will find a willing partner.
Sincerely,
daisyBill
---
daisyBill tracks responses to your bills, appeals, and RFAs — so your practice knows when payers break the rules. Click below to request a demonstration.