Last week we hosted a webinar on Second Bill Reviews (SBRs)--if you attended, thank you!  I thought it would be interesting to re-post here some of the good and bad examples of claims administrator SBR responses, and explain them in further detail.  I'm posting both good and bad examples because too often we only hear about the bad in our industry, when there's a lot of good that's also going on.
So here's a great example of when things go right with an SBR.  The screenshot below shows that DaisyBill sent an SBR on 7/1 to Travelers.  We noted, as we always do, that the final EOR in response to the SBR was due 7/15.  To Travelers' credit, it sent back its response on 7/7, eight days early.  Even better, the response was the  additional payment due per the OMFS.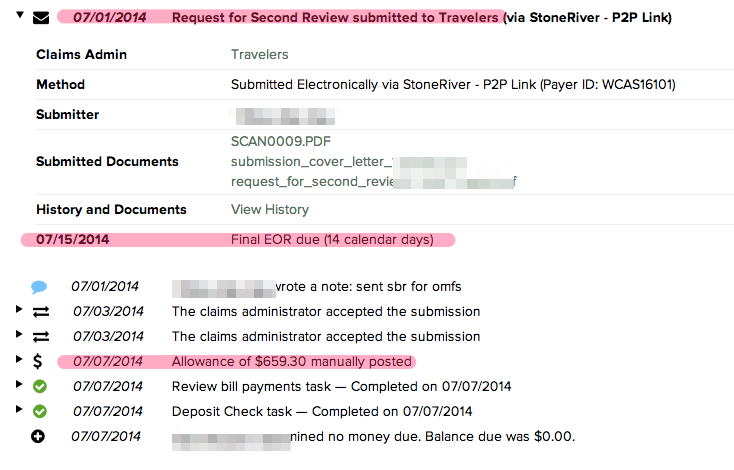 In contrast, claims admins can make a lot of different errors,  even with a single SBR.  Here at DaisyBill, of course, we think it's worthwhile (and good for the industry) to track down claims administrator errors while also noting any regulation non-adherence patterns.
Here's an example of an SBR EOR returned by AIG, in which a couple of things have gone off course.  First, AIG's EOR states that the SBR we submitted was actually a duplicate bill but, when called, AIG's representative explains that they denied the SBR for an entirely different reason.  That's mistake number one--inaccurate denial codes.  
AIG's rep goes on to explain that AIG won't even look at an SBR unless the original EOR is attached, which is mistake number two.  This is a claims administrator error that we've seen repeatedly--when a claims admin denies an SBR because the original EOR wasn't attached.  But the DWC doesn't require that the original EOR to be included with an SBR. The theory behind this is that the claims admin sent the original EOR in the first place so the claims admin should still have a copy of that EOR.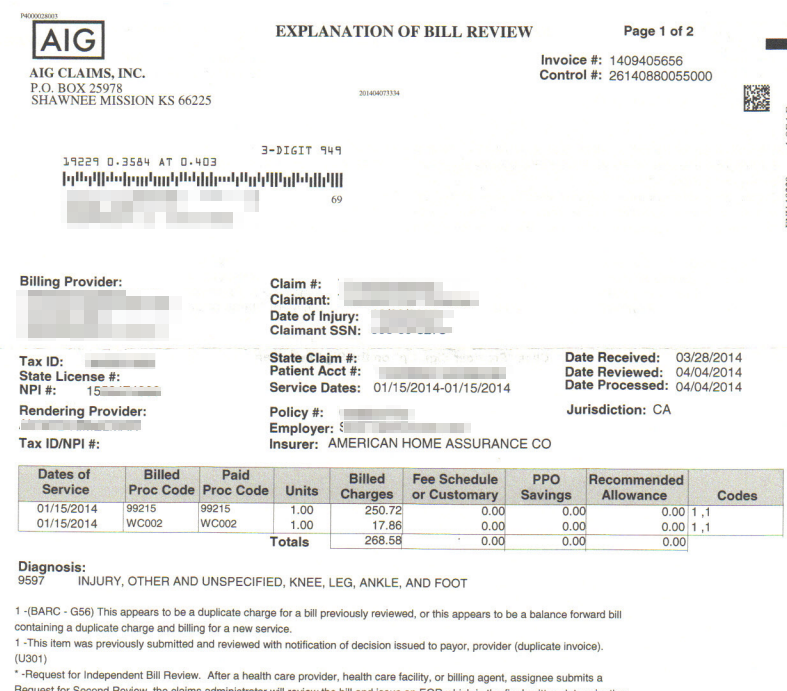 Later this week, I'll post more examples of SBR processing errors, as it's worth understanding how and why things go wrong.