So many injuries. So many Requests for Authorization (RFAs). So many Utilization Review (UR) decisions to keep track of — and only so much time in a day.
Rest easy, providers. daisyAuth has it covered.
Welcome back to our series on making the authorization and UR process easier, smoother, and more manageable for practices. Today we demonstrate how daisyAuth keeps every bit of information you need about RFA and UR status in one easy-to-navigate place.
Watch the 6-minute video below, and learn how daisyAuth technology makes UR organization easier and more efficient for your practice.
Keep UR Decisions Organized, Updated, Accessible
For each injury, daisyAuth provides a comprehensive 'Requested Treatments' list (screenshot below), which documents each and every treatment requested along with all the pertinent details, including:
The treatment description

The date the RFA was faxed to the claims administrator

The date the UR decision was due from the claims administrator, per California regulations

The date the claims administrator made the UR decision

Whether the requested treatment was approved, denied, modified, or delayed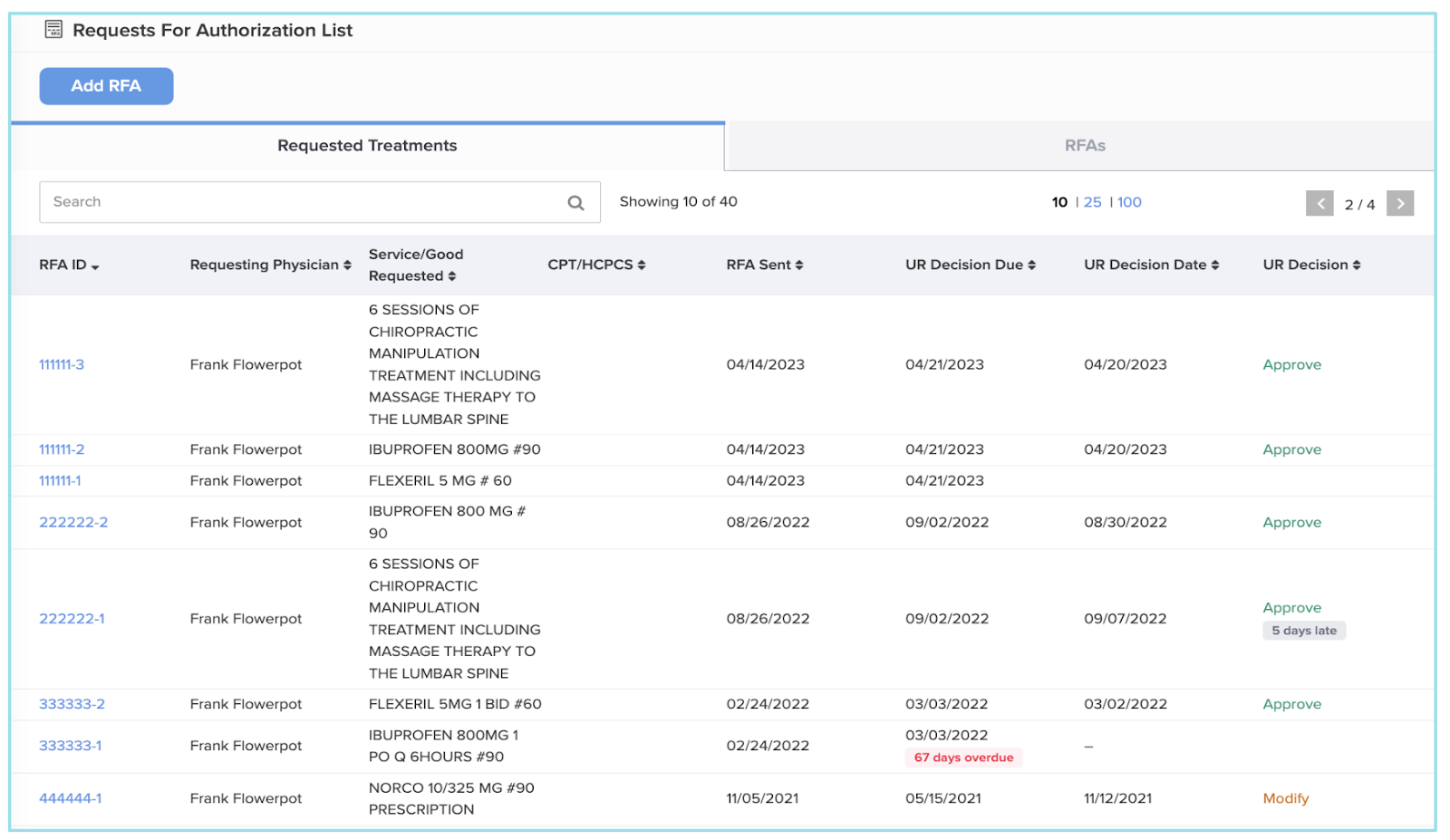 To receive payment for any treatment rendered to an injured worker, the provider must submit the applicable RFA and subsequent UR decision with each bill — proving the treatment was authorized by the employer or insurer.
For that reason, managing the multitude of UR decisions is critical to a practice's financial health.
Crucially, daisyAuth also tracks claims administrator compliance with UR decision due dates, alerting your practice when the decision is late.
daisyAuth also organizes all requested treatments by a unique ID number identifying the specific RFA form the provider used to request each treatment.
Bottom line: Caring for injured workers requires keeping your practice financially healthy with denial-proof documentation. Your practice should have no doubts or worries about proving that the claims administrator authorized each and every treatment rendered.
Good RFA and UR decision management = good revenue management.
---
30-second RFA submission. Automatically tracked UR decisions. Zero doubts about proof of authorization. Request a free daisyAuth demo below!
DaisyBill provides content as an insightful service to its readers and clients. It does not offer legal advice and cannot guarantee the accuracy or suitability of its content for a particular purpose.