There are no perfect solutions. While electronic billing works infinitely better than mail in getting providers reimbursed for treating California's injured workers, inevitably, there are times when payers' technical failures can temporarily throw e-billing transactions off track.
Below, we explain the most common e-billing errors that occur, and how daisyBill identifies, reports, and addresses these errors as quickly as possible, minimizing disruptions to providers' revenue streams.
The CA e-Billing Process
E-billing works through Electronic Data Interchange (EDI) between the provider and claims administrator (i.e. the insurer, self-insured employer, or Third-Party Administrator). Usually claims administrators use an an intermediary, known as a clearinghouse*, to accept e-bills sent by providers.
The workers' comp e-billing process works as follows:
Step

Entity

EDI Action

1

Provider's Billing Software

Electronically transmits both of the following to claims administrator:

1. e-Bill (in X12 837 format) and

2. Supporting documents (in X12 275 format)

2

Clearinghouse

Accepts e-bill and supporting documents on claims administrator's behalf

3

Clearinghouse

Electronically transmits the provider's billing software an acknowledgment (in X12 277 form) indicating the clearinghouse either:

1. Accepted e-bill, and will forward the e-bill to the claims administrator, or  

2. Rejected the e-bill due to:


a. Missing mandated information

b. Sent to the wrong claims administrator (claim not on file) or

c. Injury claim is denied

4

Claims Administrator

1. Receives accepted e-bill and supporting documents from clearinghouse

2. Adjudicates e-bill

3. Sends Explanation of Review (EOR) data to clearinghouse

5

Clearinghouse

Transmits electronic EOR (e-EOR) data (in X12 835 format) to provider's billing software

6

Provider's Billing Software

Receives X12 835 e-EOR data and:

1. Posts e-EOR data to e-bill

2. Renders e-EOR data in a readable format for provider
*CorVel and the Department of Labor do not use a clearinghouse vendor. Instead these two entities maintain the necessary technology to accept and transmit X12 data.
Importantly, though using a clearinghouse to facilitate receipt of e-bills, the claims administrator remains legally responsible for compliance with all state e-billing regulations; the clearinghouse is simply a vendor used by the claims administrator.
EDI Error Alert
daisyBill software tracks and documents everything that goes wrong with any EDI transaction.
The software automatically alerts daisyBill when a clearinghouse fails to send a provider either the acknowledgement (X12 277 ACK) or the e-EOR (X12 835).
Using the data generated by millions of workers' comp e-bills flowing through daisyBill software, we track claims administrators' rates of compliance in sending 277 ACKs and X12 835s, and publish the data on our Claims Administrator Directory.
Where we see consistent non-compliance by a given claims administrator, daisyBill agents:
Contact the claims administrator to report the problem

Contact the claims administrator's clearinghouse to report the problem

If the claims administrator/clearinghouse fails to resolve the problem, files Audit Complaints with the Division of Workers' Compensation (DWC).
For EDI errors, daisyBill also alerts the provider to the error by posting an EDI Error Alert on every e-bill, as follows: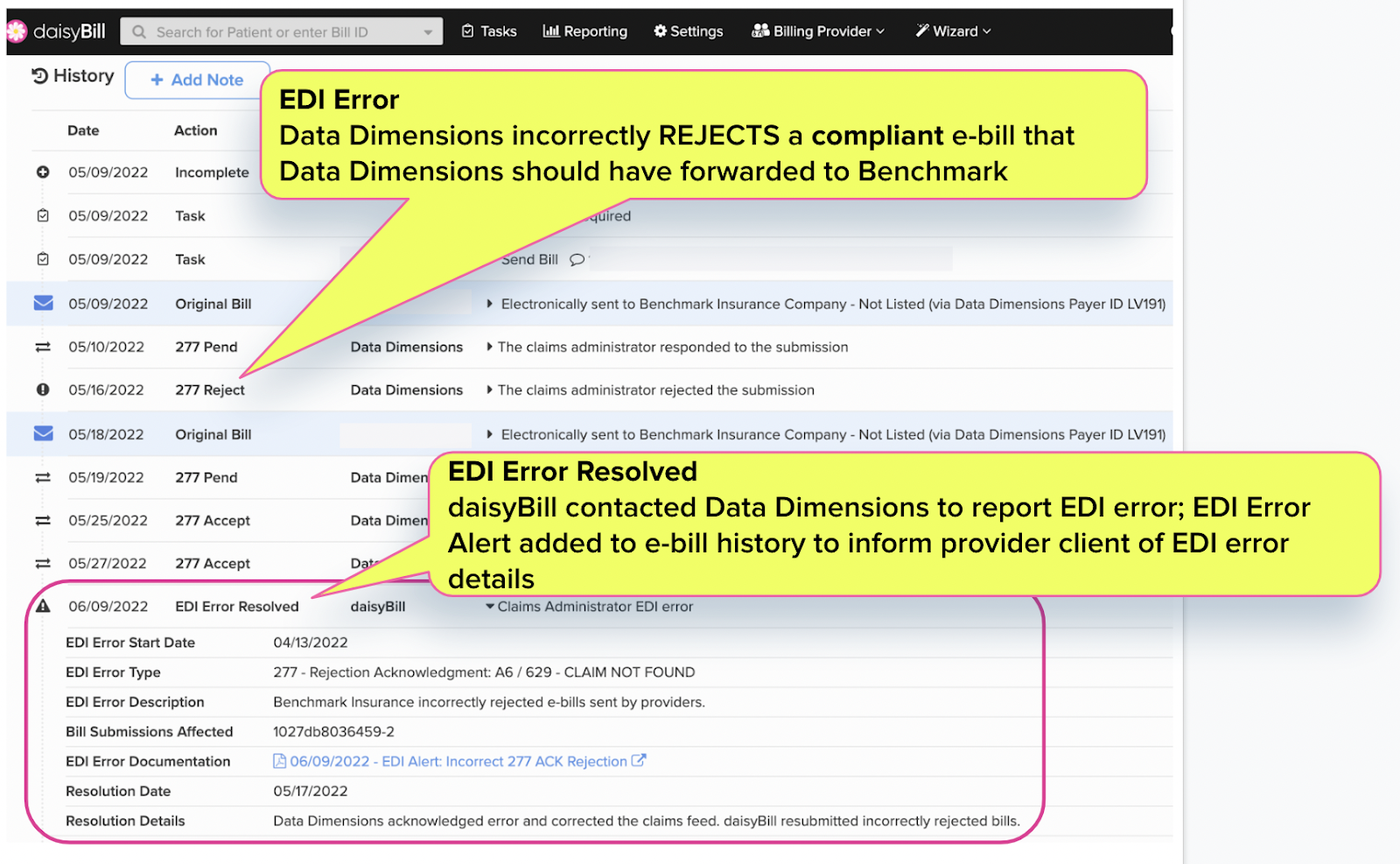 While the technical problem may lie with the clearinghouse, the claims administrator is always legally responsible. It is therefore critical for claims administrators to work with a clearinghouse that keeps their organization in compliance — because the claims administrator, not the clearinghouse, faces the consequences for non-compliance.
E-billing does even more than facilitate faster, smoother billing and payment. Reliable e-billing software gives providers a powerful accountability tool to see when claims administrators and/or clearinghouses fail to meet their obligations. In this way, providers can protect practice revenue and ensure the financial stability necessary to continue treating injured workers.
---
Make workers' comp a better investment. From fee schedule calculators to billing software to complete managed billing, DaisyBill has your back. Contact us to learn more.