Doctors don't have to be wary of treating injured workers, or fear the administrative nightmare that used to define workers' comp for practices.
Case in point: a California orthopedic practice struggled with an all-too-familiar problem for providers across the nation: submitting bills for the treatment of injured workers, only to suffer interminable delays in payment — if correct payment came at all.
But then the practice switched to e-billing for workers' comp.
Within one week of deciding to move forward with e-billing, the practice's account was up and running. Exactly four working days after submitting their first e-bill, the practice received its first payment and electronic Explanation of Review (e-EOR) from the claims administrator.
This is how easy management of workers' comp revenue and Accounts Receivable can be — and how perfectly sustainable it can be for practices to treat injured workers.
Gallagher Bassett: From 'Submitted' to 'Paid' in 4 Business Days
The e-EOR below represents a ray of hope for providers who are understandably hesitant to accept workers' comp patients (or too many of them).
Below, we see that on the claims administrator end, Gallagher Bassett performed flawlessly. The Third-Party Administrator (TPA) received the e-bill on Tuesday October 10th; by Monday October 16th, Gallagher Bassett electronically remitted the e-EOR.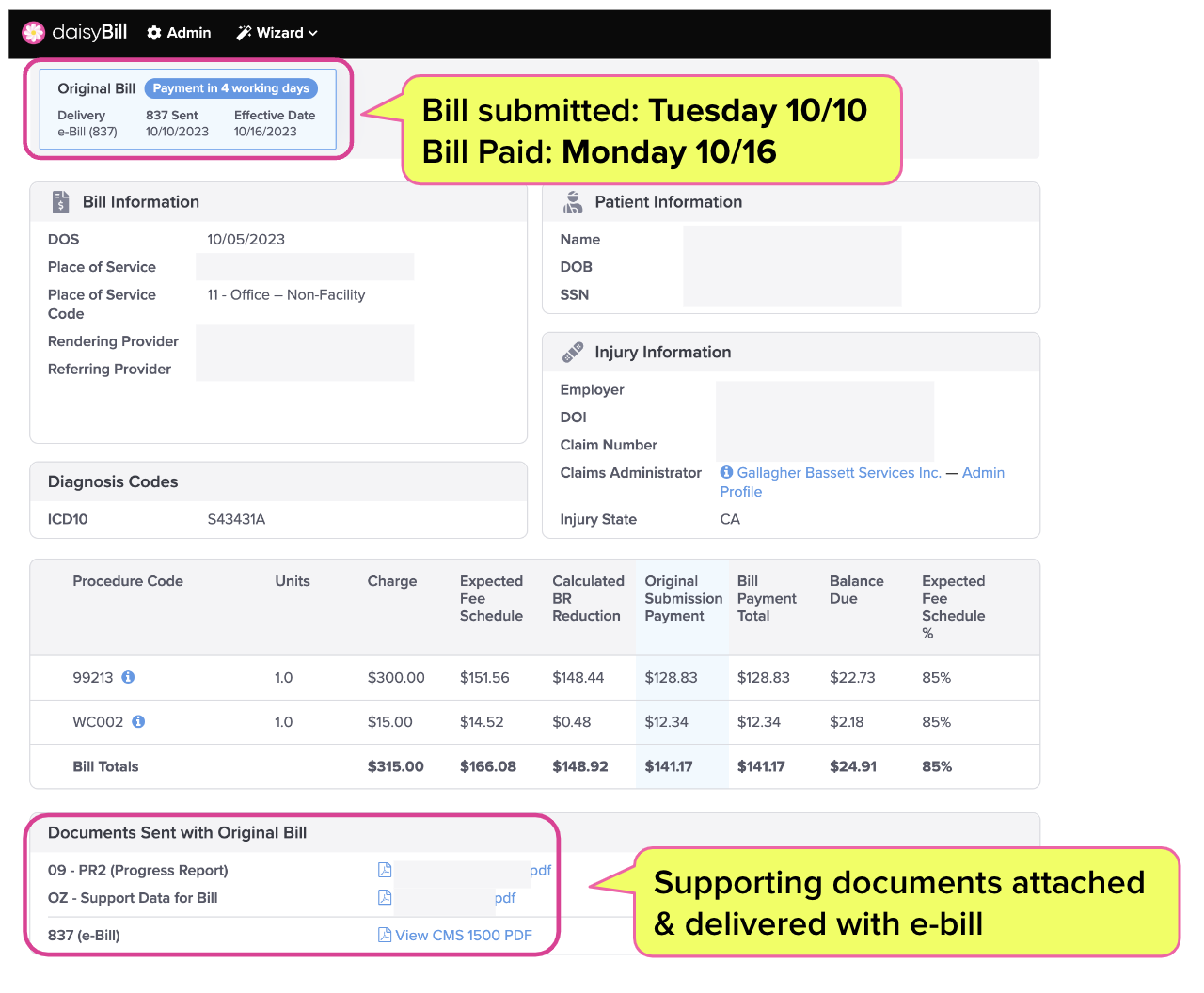 Before & After
As "Before & After" contrasts go, this practice's billing is a dramatic example.
When the orthopedic surgeon first contacted daisyBill, the practice waited weeks and often months for payment, when they received a response at all. Paper bills were too easily lost or delayed, and other attempted modes of transmission created more problems than they solved — keeping the workers' comp section of the practice's books in perpetual chaos.
Even worse, any problems with a paper bill — say, an incorrect denial or adjustment of payment — took even longer to identify, let alone resolve.
Still, the prospect of actually implementing e-billing was intimidating. The practice was fearful of installing and integrating an entire new billing system for its workers' comp bills.
Fortunately, it wasn't daisyBill's first rodeo. With some assistance and training from our team, the practice's team was e-billing within a single week of making the choice to move forward.
As our daily-updated claims administrator data (below) shows, the average daisyBill provider's bills are paid in just shy of 9 business days. This practice waited less than half as long as that for payment and e-EOR on their first bill.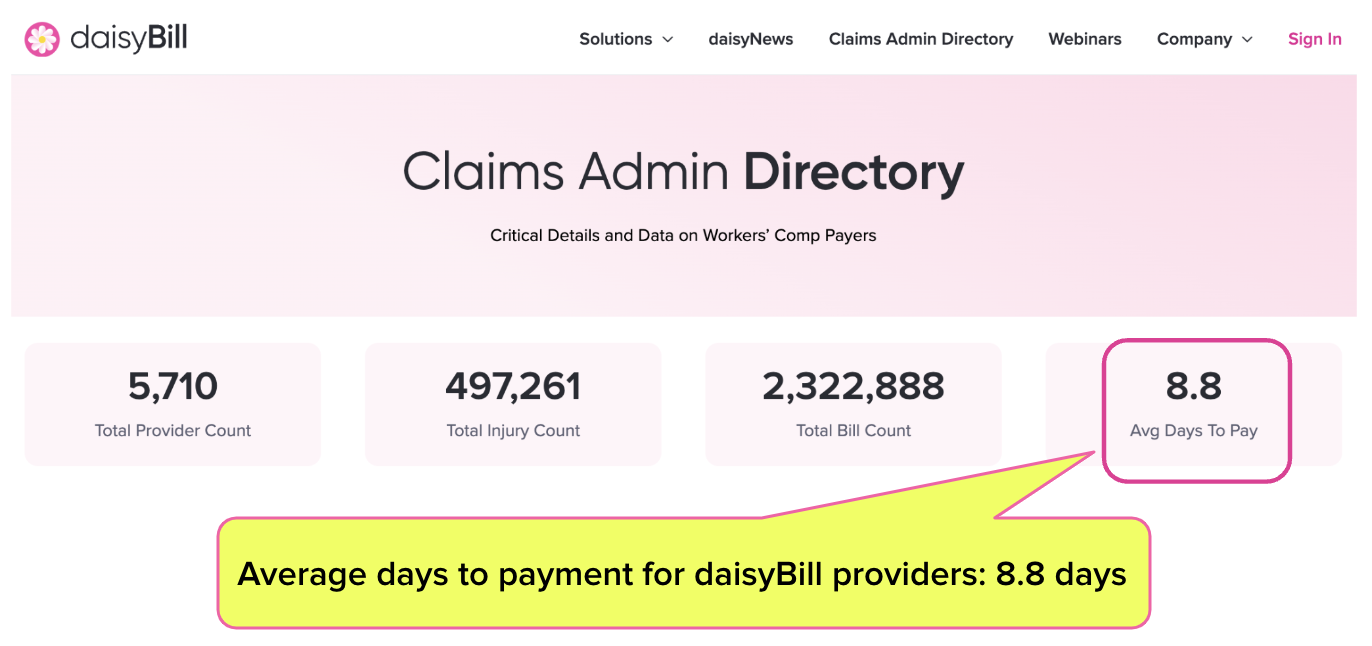 Workers' Comp e-Billing Works
The benefits of e-billing go beyond speedy payment, however.
Because the e-EOR automatically posts all the payment details to the e-bill, the practice can instantly see if the payment was correct, and instantly appeal if necessary (to the tune of millions in revenue recovered for some practices).
Add to this daisyBill's payment data management systems, which allow the practice to see which discount contracts need to be canceled or renegotiated.
In a very brief period of time, managing workers' comp revenue becomes not just easy, but better for the practice's overall financial health.
This is the revolution workers' comp needs. While we continue to advocate for injured workers' and providers' rights, shine a light on claims administrator behavior, and push for the Division of Workers' Compensation (DWC) to do better, we can offer providers something powerful in the meantime: a tool to protect their practices, and a way to ensure that treating injured workers isn't a roll of the financial dice.
---
daisyBill makes workers' comp billing easier, faster, and less costly. Request a free demonstration below.