The New York State Workers' Compensation Board (WCB) is in love. The regulatory body fell hard for the CMS-1500 (sometimes called a 'HCFA'), and is currently moving toward a more monogamous relationship with the universal medical billing form.
We can't blame them. In fact, DaisyBill has been smitten with the CMS-1500 for some time and already actively submits CMS-1500s in New York every day. We expect to be one of the very first electronic submission partners to be approved for New York workers' comp bills.
Improving Care by Improving Billing
The reasons to love the CMS-1500 are numerous. It's relatively easy to use (of course, DaisyBill is here to help if you have trouble) and it contains all the information necessary for effective workers' comp medical billing. It's simply more efficient, and anything that reduces friction in this industry is welcome.
Under the CMS-1500 Initiative, the state expects to increase provider participation in workers' compensation, and boost both the quality and speed of injured workers' access to care by reducing the administrative burden. As every healthcare provider knows, administering care in workers' comp is certainly burdensome, and has only gotten worse over time.
That's why we are so thrilled to see the state consider the provider's perspective, and step up to cut the red tape that stands in the way of access to good healthcare for workers.
The WCB is letting go of the past as it moves to phase out other forms and formats. New York will set aside as many as 12 other forms, including the oft-used (and much-maligned) Initial, Progress, and Narrative reports. As the state makes room for its relationship with the CMS-1500 to flourish, one thing is quite clear: this engagement makes life much easier for providers, patients, and billers alike.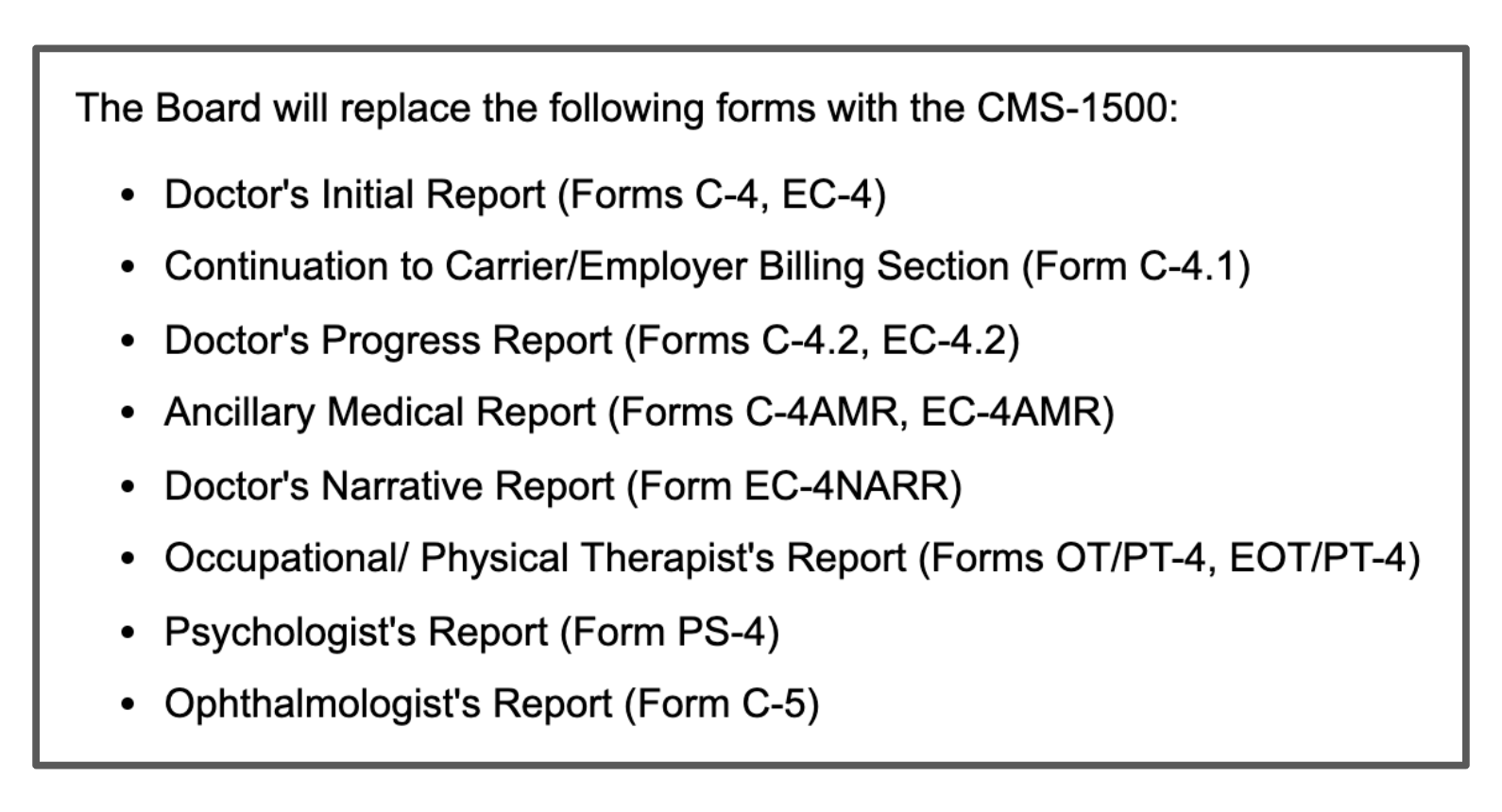 CMS-1500 initiative. (2019, July 24) Retrieved from http://www.wcb.ny.gov/CMS-1500/index.jsp
What Providers Need to Know
Whenever this initiative goes into full effect, providers will be required to submit their bills on the CMS-1500 electronically, via XML. The changes will not affect payers' payment methods or required timeframes for billing and reporting, nor will the state require Pharmacies, Chiropractors, and DME providers to adopt the electronic CMS-1500.
The newly-developed (and ever-changing) process of becoming an XML Submission Partner with the WCB also appears to be underway and DaisyBill is on track to be among the first wave of approved partners. If you have any questions about this transition—or workers' comp billing in the Empire State in general—don't hesitate to reach out to us.
There will be a "hardship exception" for providers unable to meet the mandatory electronic reporting requirements. However, the exact conditions that will qualify providers for the exception remain unknown. It is worth noting, too, that all healthcare providers will be expected to have a National Provider Identifier (NPI) number. So if you do not currently have one, be sure to apply soon.
Shifting Timelines
While everyone's excited about the engagement, the wedding date isn't exactly set.
Timelines for the final adoption of the CMS-1500 Initiative remain unclear. As the originally announced deadline of January 1, 2020 approaches, the WCB has been increasingly noncommittal. First, the board got cold feet, backing away from the deadline entirely. Then, the board reasserted their commitment; sort of. The official CMS-1500 Initiative website now states that the transition will take effect "on or about January 1, 2020."
As anticipation builds, the WCB has announced a prenup of sorts. Changes to billing regulations in advance of the mandatory electronic submission deadline are anticipated but will undergo "a 60-day comment period associated with this regulation change" for billing experts (like us) and providers (like you) to give input on the details, per the CMS-1500 Initiative site.
We're excited that the ceremony is back on track and happily anticipate the WCB will finally saying "I do."