Sedgwick Claims Management Services just set a dubious new record. Maximus, the entity which conducts Independent Bill Review (IBR) on behalf of California's Division of Workers' Compensation (DWC), ordered the Third-Party Administrator (TPA) to pay the largest disputed amount ever awarded to a daisyBill client in the history of our company.
Sedgwick denied payment of a Qualified Medical Evaluator (QME)'s $20,354 bill for Medical-Legal services, citing a denial reason that anyone with even the most basic knowledge of workers' comp would recognize as patently, eye-rollingly inapplicable.
Honestly…it's like Sedgwick wasn't even trying.
Now, Sedgwick (acting on behalf of employer Advantage Solutions) owes even more than the original amount in dispute. California mandates penalty and interest payments of 10% and 7% per annum, respectively, plus the $180 IBR filing fee, as follows:
| | |
| --- | --- |
| | |
| Overdue Balance | $20,354.00 |
| Penalty Owed | $2,035.40 |
| Interest Owed as of 9/7/22 | $1,112.12 |
| IBR Fee Owed | $180.00 |
| Total Owed | $23,681.52 |
If Sedgwick fails to remit the amount disputed, the penalty or interest payments, the IBR filing fee, or any combination thereof, daisyBill will file a formal Audit Complaint with the DWC.
Sedgwick: Throwing Denial Codes at the Wall
Let's start with a basic fact: bills for Medical-Legal services can't be denied because the physician is "out of network," because Medical-Legal services are not subject to the (absurd, corrupt) Medical Provider Network (MPN) system.
Yet, that is precisely what Sedgwick did.
The QME was selected from a state-designated panel, and the defense attorney requested the QME perform the evaluation. Below is the letter from the defense attorney requesting the QME conduct the evaluation (and review over 6,000 of pages of records).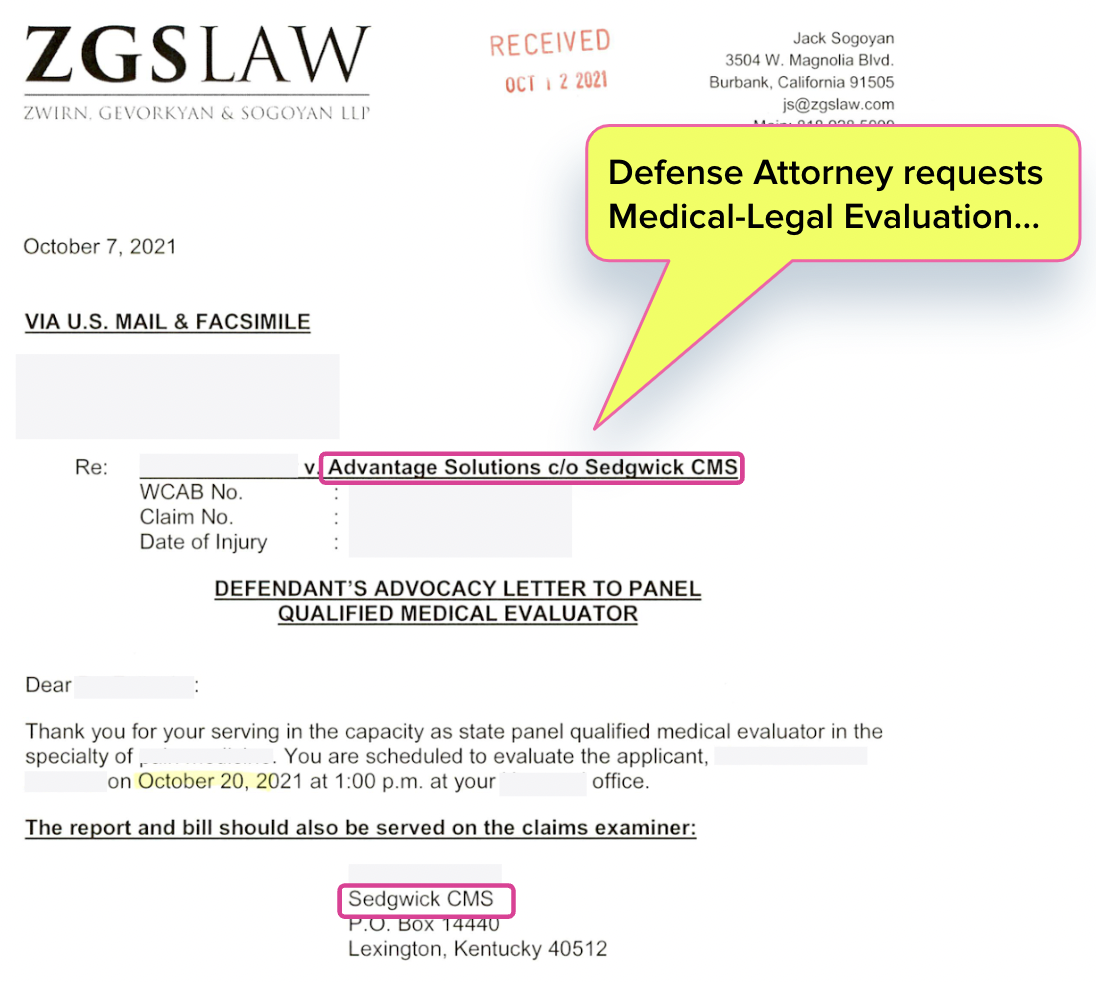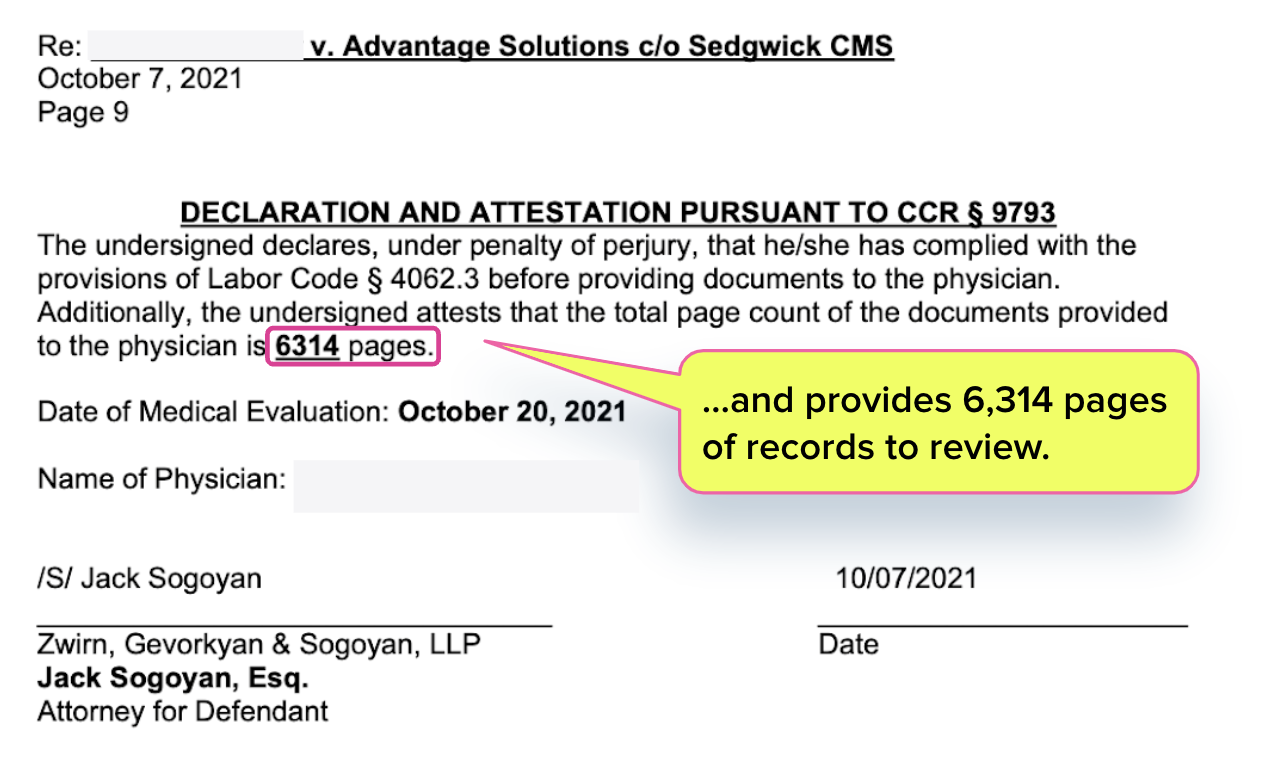 Obviously, MPN membership is completely irrelevant to this request. However, we're dealing with Sedgwick, for which basic facts about workers' comp are a bridge too far. Accordingly, the Explanation of Review (EOR) from Sedgwick denied payment on the grounds the QME was not in the employer's MPN.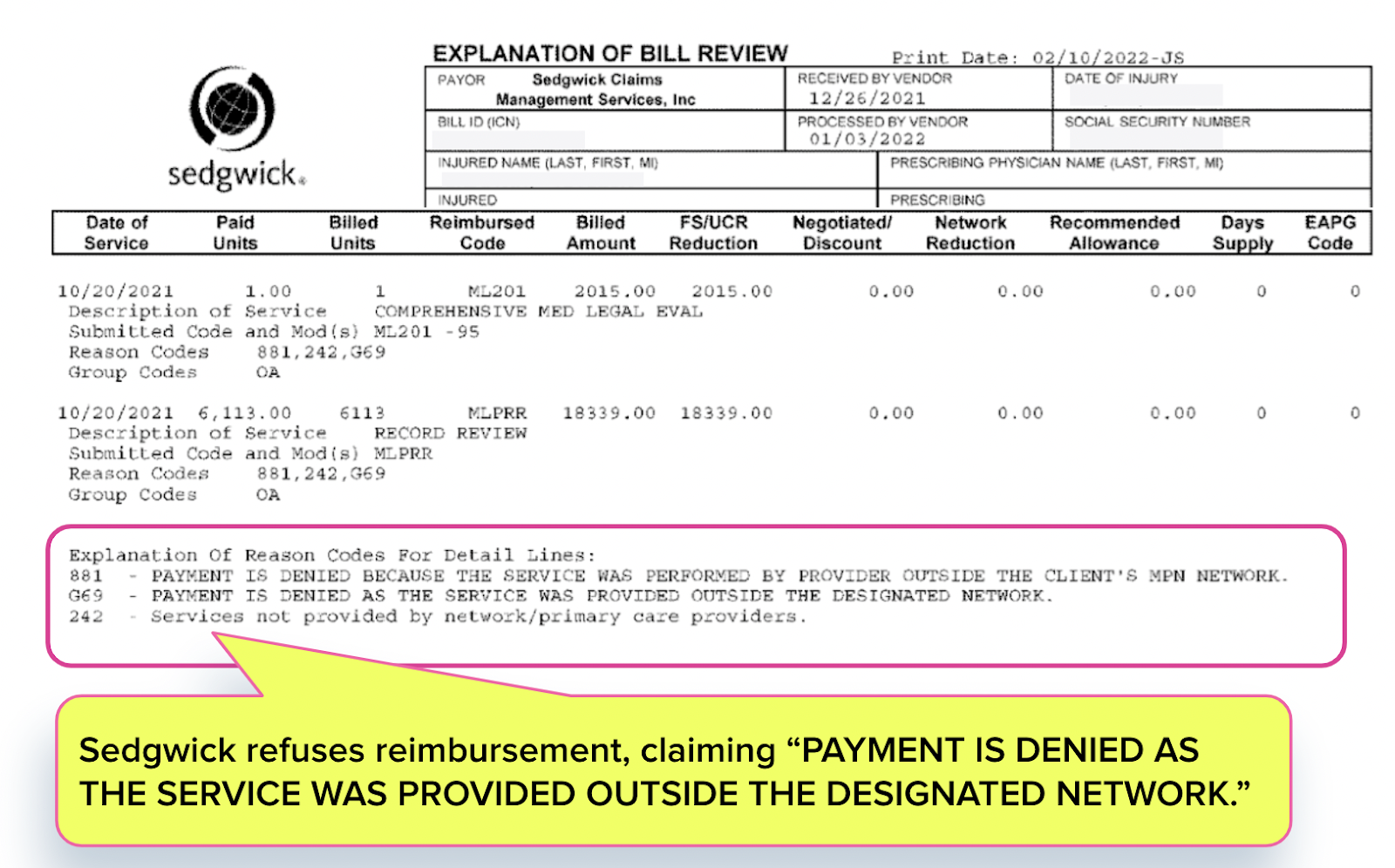 The QME then submitted a Second Review appeal to Sedgwick, complete with a gentle reminder about the inapplicability of MPN restrictions to all things Medical-Legal.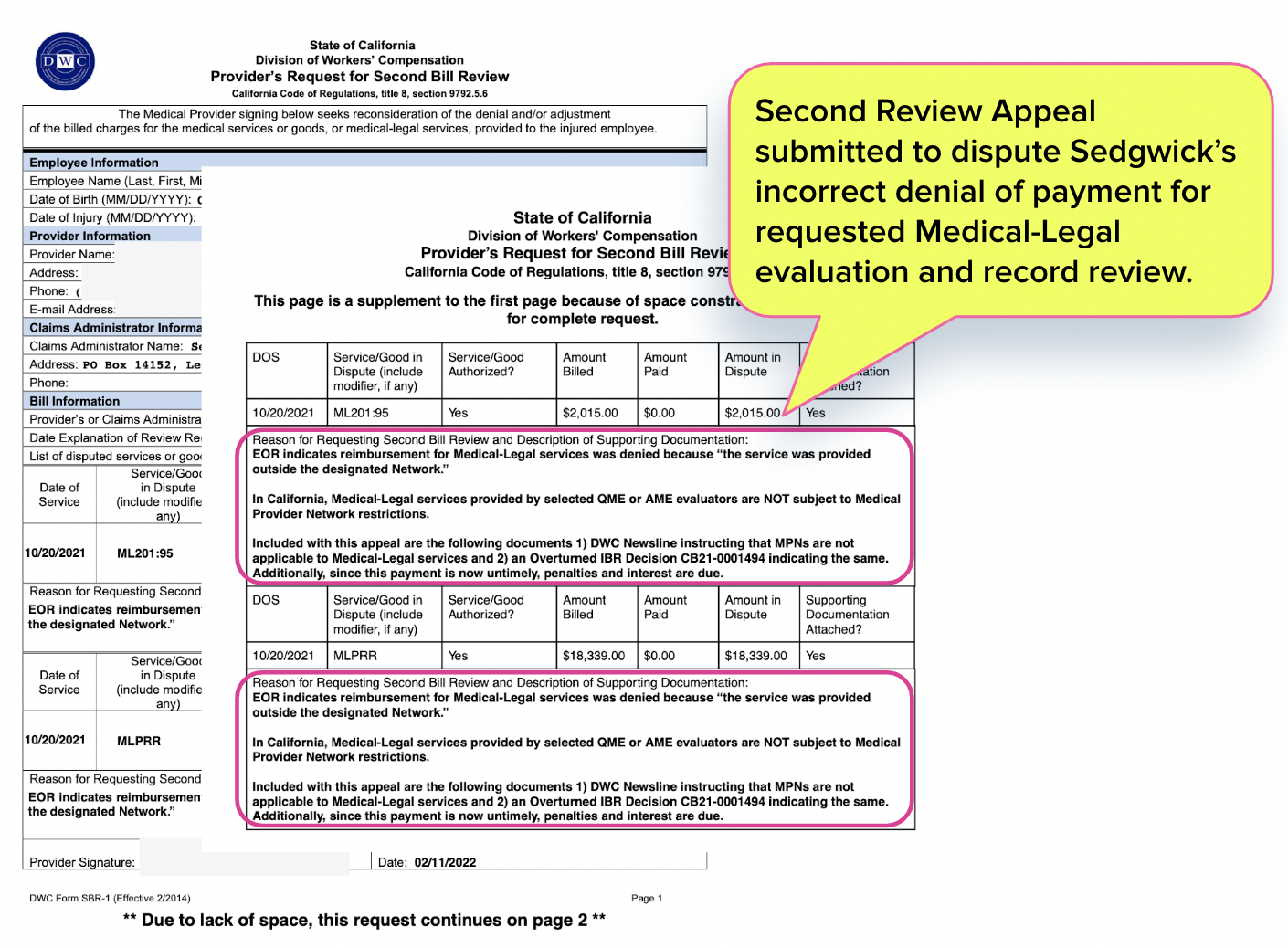 Once again, Sedgwick stayed on brand. Since one comically inept denial reason didn't work, Sedgwick found another: denying the Second Review appeal as a duplicate of the original bill.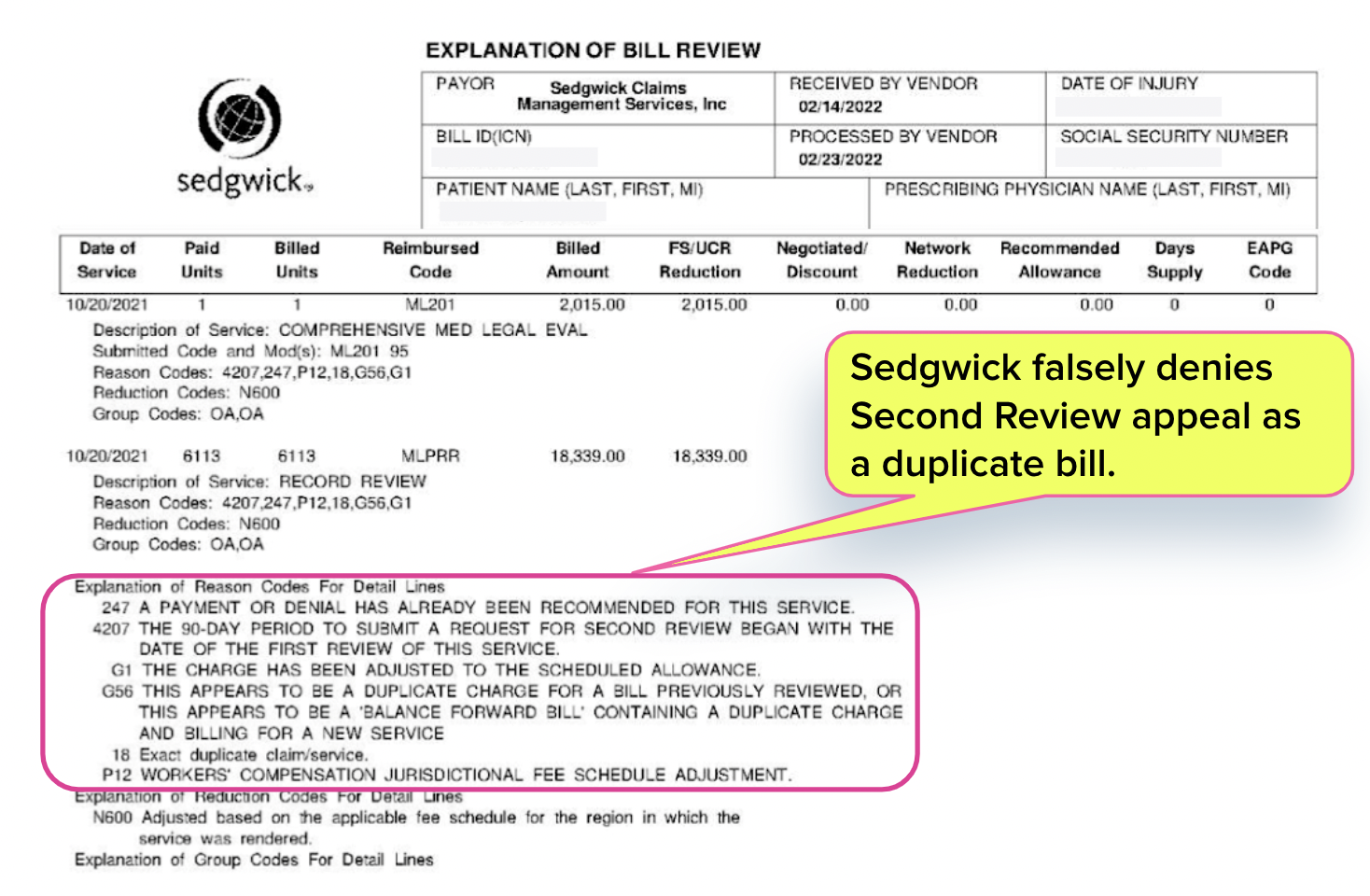 QME Submits IBR Request: 526 Pages Required
With the improper Second Review denial, the QME had no choice but to pay the $180 fee and complete the voluminous paperwork necessary to submit a 526-page IBR request.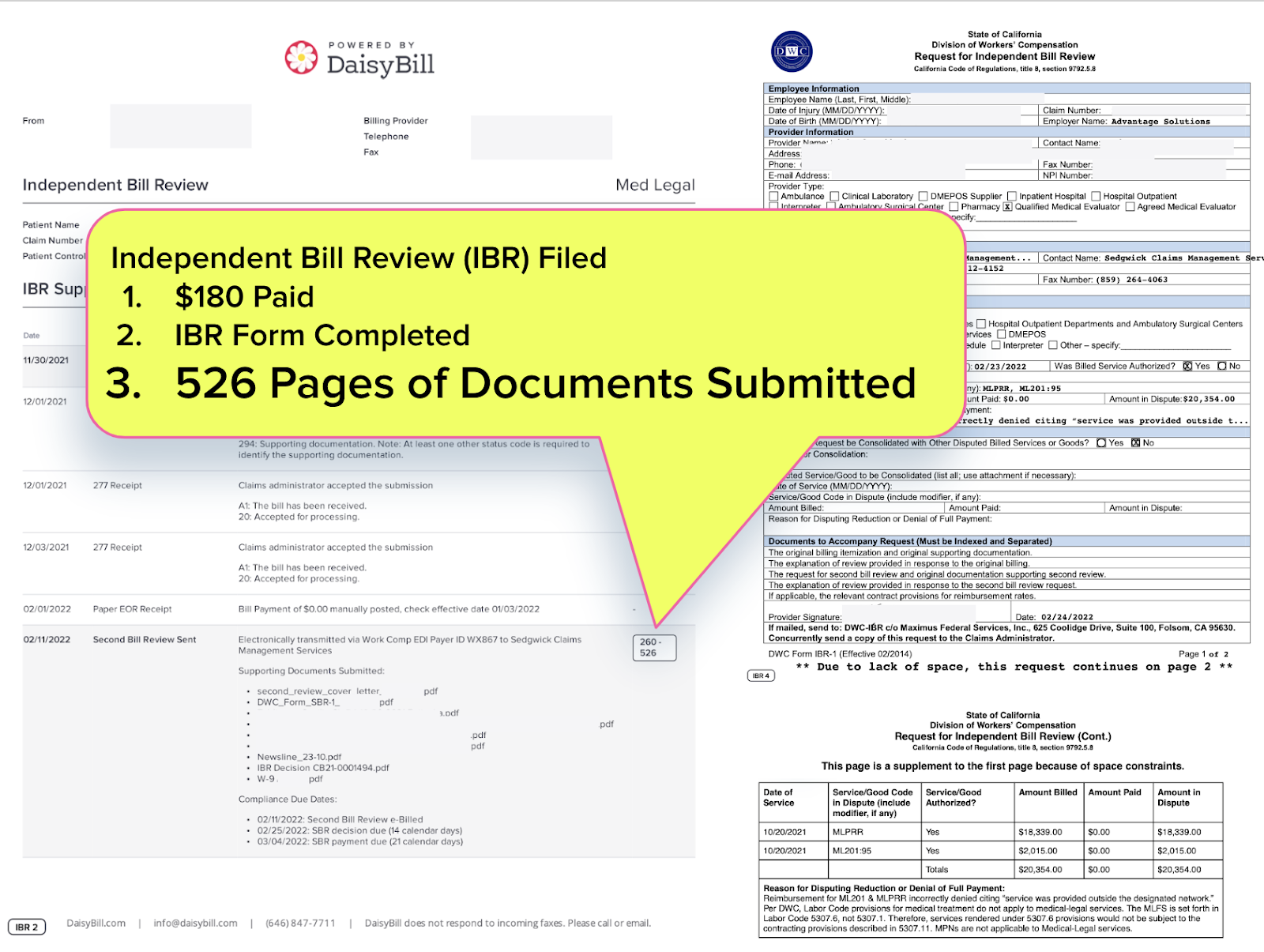 For Maximus, this dispute was an open-and-shut case. In its letter overturning Sedgwick's absurd denial, Maximus patiently explained the basic concepts of:
How QMEs are asked to conduct evaluations by the parties, and

How record review billing has worked since April of 2021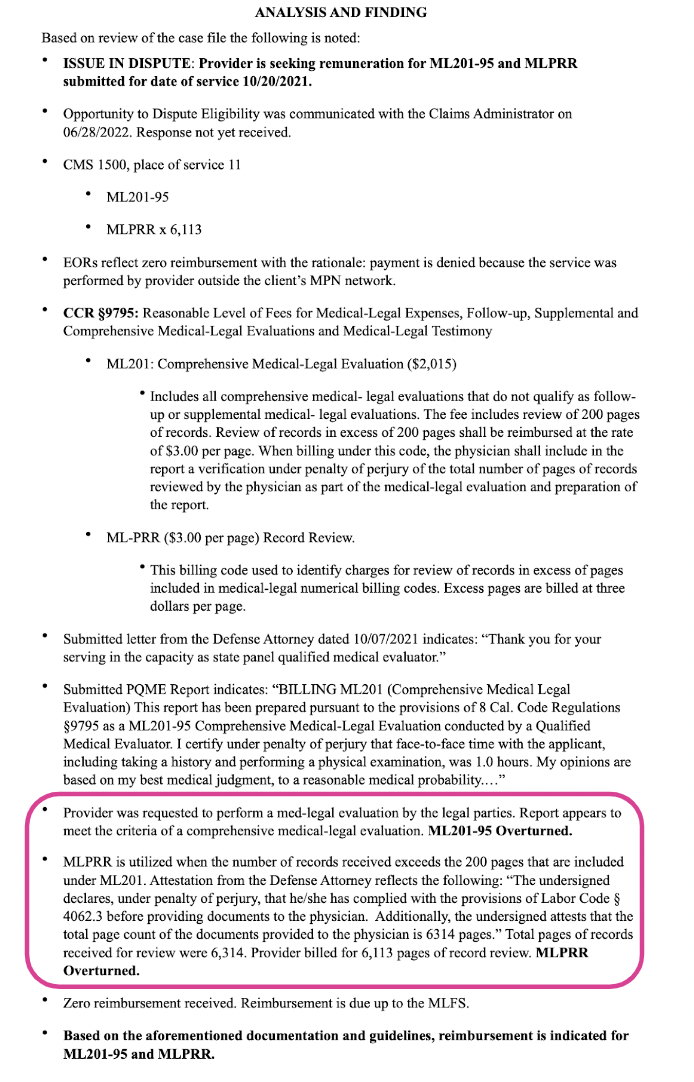 We'd like to think of this as a happy ending. But Sedgwick hasn't remitted payment yet — and even assuming Sedgwick pays, being reimbursed for a straightforward service with a relatively uncomplicated bill should not have required this amount of work.
There's also the matter of the penalty and interest payments, for which the QME may have to chase Sedgwick farther than the James Webb Space Telescope can see. Given the amount of penalties and interest Sedgwick currently owes daisyBill providers for medical treatment, we won't be surprised if it becomes necessary to involve the DWC again.
---
Protect your practice revenue. Harness the power of daisyBill software, data, and expertise for faster, better workers' comp billing.
DaisyBill provides content as an insightful service to its readers and clients. It does not offer legal advice and cannot guarantee the accuracy or suitability of its content for a particular purpose.