This is Part I of our three-part series on one California doctor's struggle to protect practice revenue from an unsubstantiated Anthem PPO discount.
Anthem Blue Cross excels at undermining fee schedules and taking doctors' reimbursements for treating injured workers. But recently, this Preferred Provider Organization (PPO) — along with insurer The Zenith — set a new low standard. The duo took almost half of the reimbursement owed to a doctor, while citing a discount contract that both entities failed to produce.
Below, we expose how this team used a phantom contract to swipe a large chunk of the doctor's revenue, all while ignoring California laws put in place to protect providers from exactly this type of unsubstantiated discount.
As we've written about extensively, payers and PPOs will go to incredible lengths to reduce provider revenue to below the rates established by California's fee schedule. From distributing contract discounts to hijacking the Medical Provider Network (MPN) system.
Literally, there is no shame in the PPOs' game (while California regulators cheer from the sidelines).
Zenith Takes 45% Owed to MD
DaisyBill integrates California's Official Medical Fee Schedule (OMFS) into its billing software, which alerts clients when payment amounts are less than 100% of OMFS rates. So, when a new client starts with DaisyBill, it quickly becomes obvious which payers fail to reimburse at the state-established rates for treating injured workers.
Recently, a new DaisyBill doctor was shocked to discover that Zenith reimbursed only 55% of the amount allowed by the OMFS. According to the Explanation of Review (EOR) Zenith sent to the doctor, Zenith cited an Anthem PPO contract to deny the other 45% of OMFS reimbursement due.
In the Zenith EOR, the Anthem discount took 45% of the doctor's revenue due to "your Anthem Blue Cross Contract." EXCEPT NEITHER ZENITH NOR ANTHEM BLUE CROSS CAN PRODUCE SAID CONTRACT.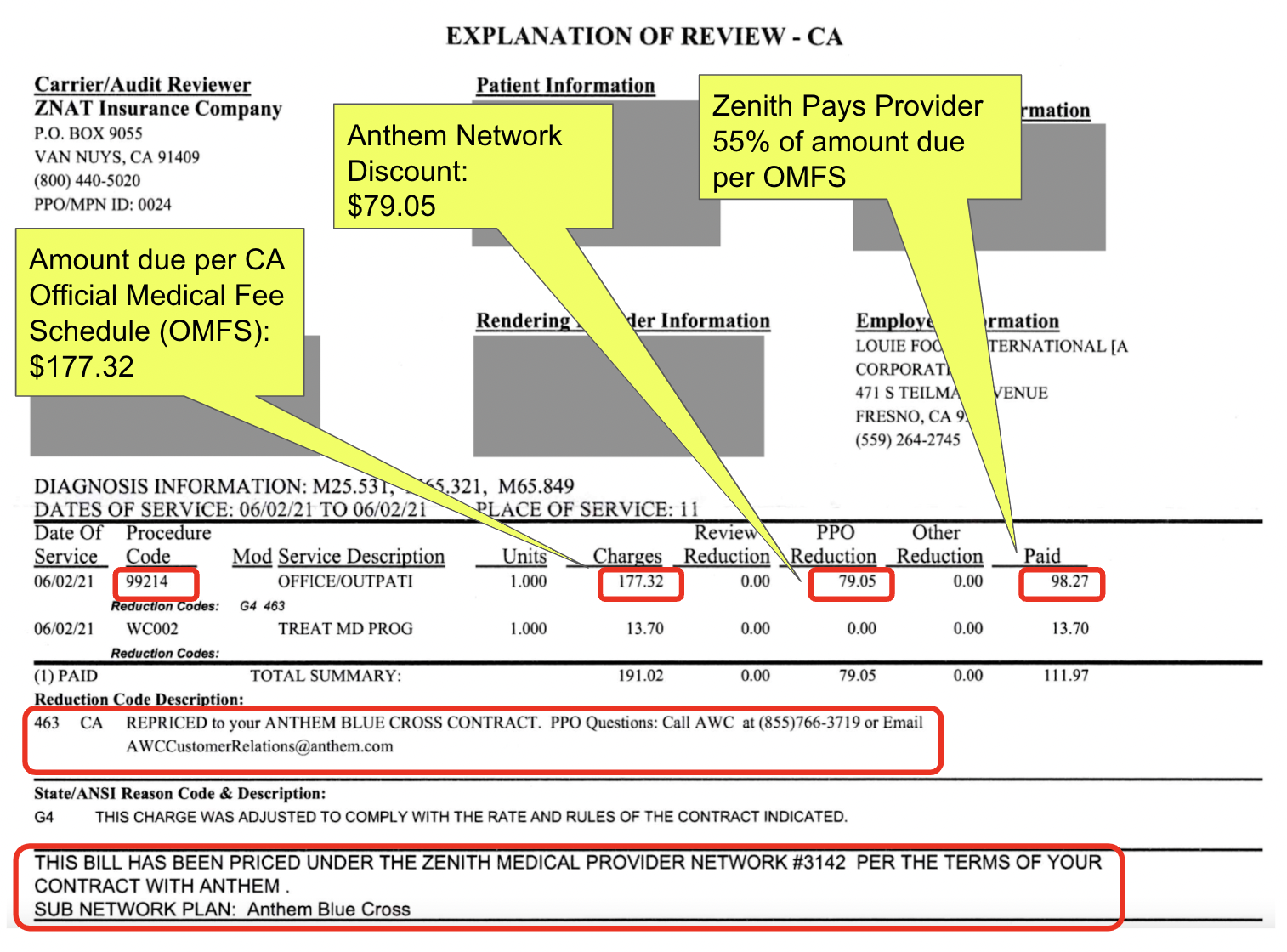 Zenith Fails to Produce Anthem PPO Contract
The doctor has no recollection of signing an agreement with Anthem that would allow Zenith to pay the doctor only 55% of the OMFS. As the doctor is a client of our managed billing service (DaisyCollect), our specialists sent Zenith a written request to produce proof of a contract that allows Zenith to help itself to the Anthem discount.
In our letter, we invoked California Labor Code Section 4609, which allows the doctor to demand Zenith demonstrate its right to pay a discounted reimbursement (don't be frightened, payers; Zenith ignored this law, so can you).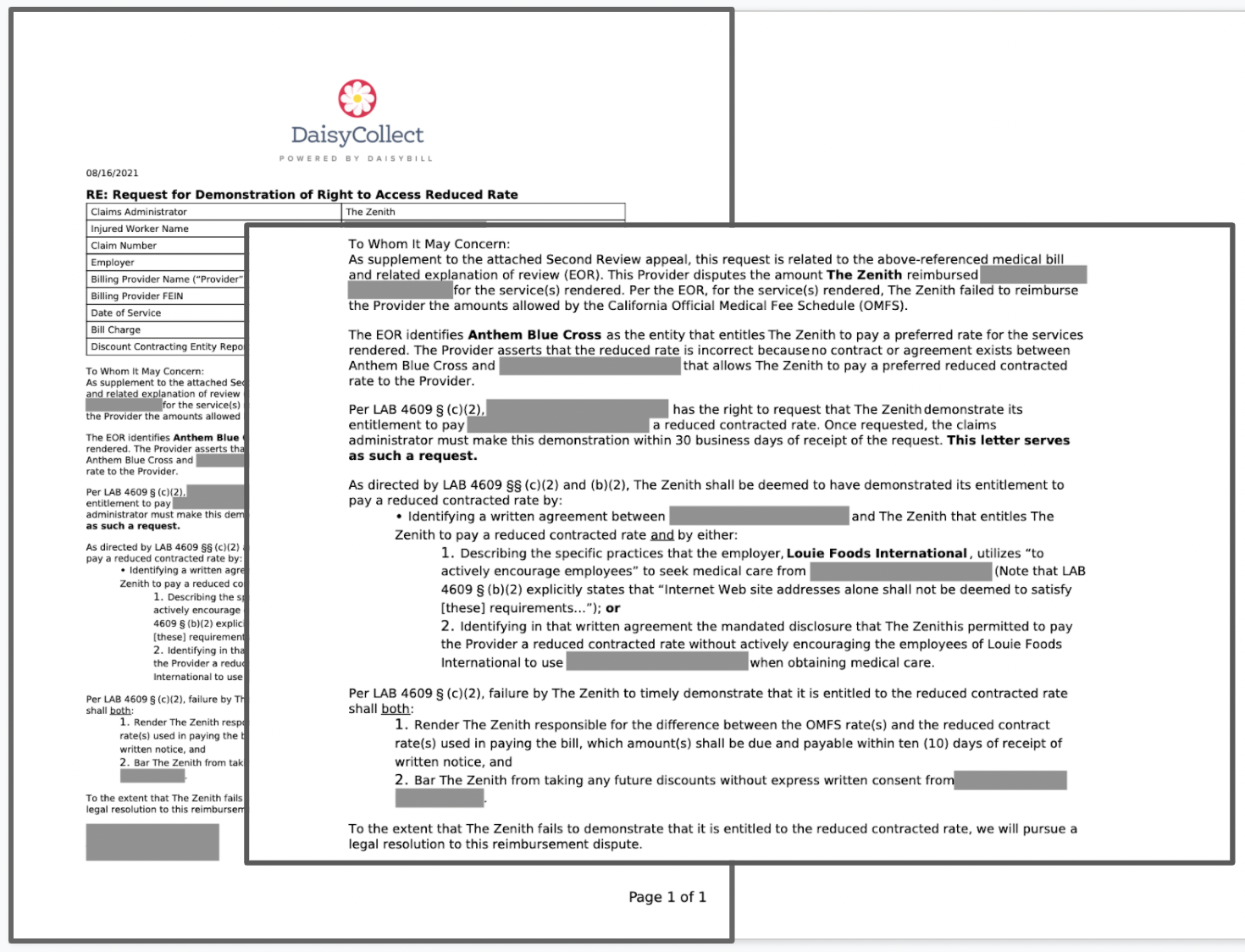 As stated in the letter above sent by DaisyCollect:
§4609(c)(2) entitles the doctor to request proof of the contracted reduction.

Once requested, the law allows Zenith 30 days to comply.

If Zenith fails to timely provide the requested proof, the law BARS Zenith from taking any future discounts from the doctor.
Per §4609(c)(2) [emphasis added]:
The failure of a payor to make the demonstration to a properly documented request of the provider within 30 business days shall render the payor responsible
for the lesser of the provider's actual fee or, as applicable, any fee schedule pursuant to this division, which amount shall be due and payable within 10 days of receipt of written notice from the provider,
and shall bar the payor from taking any future discounts
 from that provider without the provider's express written consent until the payor can demonstrate to the provider that it is entitled to pay a contracted rate as provided in this subdivision
[emphasis ours]
.
Shockingly (or not!), Zenith failed to respond to the written request — perhaps because Zenith knows California regulators fail to enforce California workers' comp laws.
Anthem Produces 'Contact Us' Instead of Contract
DaisyCollect also sent Anthem a formal request, signed by the doctor, for said PPO contract. Rather than producing a signed contract, Anthem responded by instructing the doctor to access the signed contract at a web link Anthem provided…which led to the standard "Contact Us" page on Anthem's public marketing website.
Yep, no signed contract on that website page. In short, Anthem did not produce a contract signed by the doctor that allows Zenith to pay the doctor only 55% of California OMFS.
To put that rate in context, California pegs Official Medical Fee Schedule (OMFS) rates at roughly 130% of Medicare rates. The OMFS rate is higher due to the extra practice overhead inherent to workers' comp. But with Anthem's phantom discount in play, this doctor is effectively being paid at 72% of Medicare rates to treat injured workers.
California Law FORBIDS Further Discounts
After Zenith (and Anthem) failed to produce the requested contract, DaisyCollect sent Zenith a second letter on the doctor's behalf, demanding that Zenith adhere to §4609(c)(2). Without a contract, this California law requires Zenith to both:
Pay 100% OMFS rates to the doctor, and

Stop taking future bill reductions from the doctor.
Of course, there are no expectations that Zenith will do either, since California regulators also seem to ignore workers' comp laws.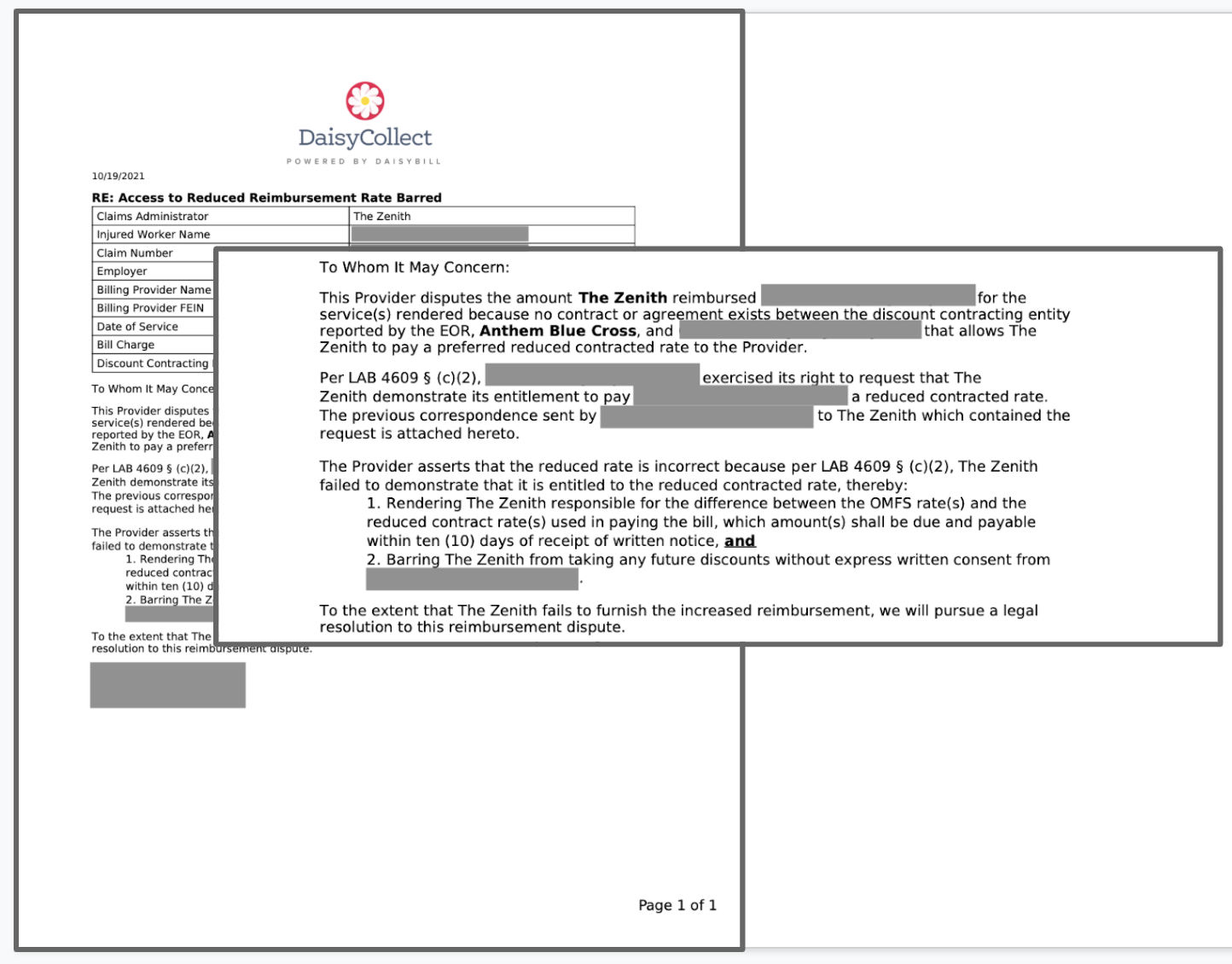 Anthem Shares Phantom Discount
As it turns out, Anthem shared this phantom contract with a slew of claims administrators which also reduced the doctor's reimbursements to rates substantially lower than the California OMFS, including:
Acclamation Insurance Management Services (AIMS)

AmTrust North America

Berkshire Hathaway Homestate Companies

California Insurance Guarantee Association

Fresno Unified School District

Insurance Company of the West

Liberty Mutual

Midwest Insurance

Pacific Gas & Electric

Risico Claims Management, Inc.
…and of course, The Zenith.
DaisyCollect, on behalf of the doctor, is sending EACH of these payers the same LAB §4609 demand letters we sent Zenith, as follows:
The first letter requests that the payer produce the phantom Anthem PPO contract that allows the payer to take the doctor's revenue.

The second letter states that, since the payer failed to produce a contract, LAB §4609 demands that the payers return the purloined revenue and cease taking future discounts.
After receiving the first demand letter, going forward, these payers should anticipate receiving the second letter for every single bill where the EOR reports an Anthem PPO discount was taken from this doctor.
We intend to pursue full reimbursement for all bills affected by this improper Anthem discount application. But that's not the end of this unfortunate tale.
In upcoming blog posts, we'll detail this doctor's efforts to escape Anthem's clutches, and the consequences for doing so. Make no mistake: when Anthem doesn't get what it wants — whether it's legally entitled to or not — this PPO plays hardball.
Fortunately, so do we.
---
Make RFAs, billing, and appeals easier than ever — and get paid faster. DaisyBill empowers providers to collect what's owed in record time. Contact us to learn how we can help your practice.