As of July 1, 2022 the New York State Workers' Compensation Board (WCB) requires providers to use the CMS-1500 form to submit bills for the treatment of injured workers. Additionally, the WCB "strongly encourages" providers to send the CMS-1500 and supporting documentation electronically.
Providers who choose to e-bill must do so through an approved Extensible Markup Language (XML) Submission Partner, one that is approved by the WCB to send the WCB the CMS-1500 and supporting documents in strictly specified electronic formats.
Below, we break down these technical requirements (which daisyBill is fully equipped to handle on behalf of New York State providers), for compliant e-bill submission to the WCB.
New York State WCB XML Requirements
To compliantly transmit an e-bill for treating an injured worker, New York State providers must utilize an approved XML Submission Partner such as daisyBill to both:
Submit the e-bill and supporting documents to the

claims administrator

 for payment,

and

Submit

compliant

 e-bill data and supporting documents (in the mandated

 

XML format) to the

WCB.
Important Note: the provider must register to submit XML submissions to the WCB. Once registered, the provider's XML Submission Partner can forward the e-bill data and supporting documents to the WCB.
For every e-bill accepted by the claims administrator, the provider's XML Partner must submit the billing data and supporting documents to the WCB in a ZIP file containing the following:
The CMS-1500 bill data in

XML

 format,

and

A

TIFF

 file of the supporting documents that must accompany the e-bill
Adhering to WCB e-billing requirements therefore requires billing software (provided by the XML Submission Partner) that does all of the following:
Renders CMS-1500 information in XML format, and

Creates TIFFs of the supporting documents, and

Sends the entire submission to the WCB as a ZIP file

CMS-1500 → XML
Converting e-bill information into the WCB mandated XML format requires expertise and experience. Below is an image furnished by the WCB, mapping the details of how the provider's billing software must use the CMS-1500 data to submit in the XML mandated format (No, this is NOT a cruel joke; it's reality).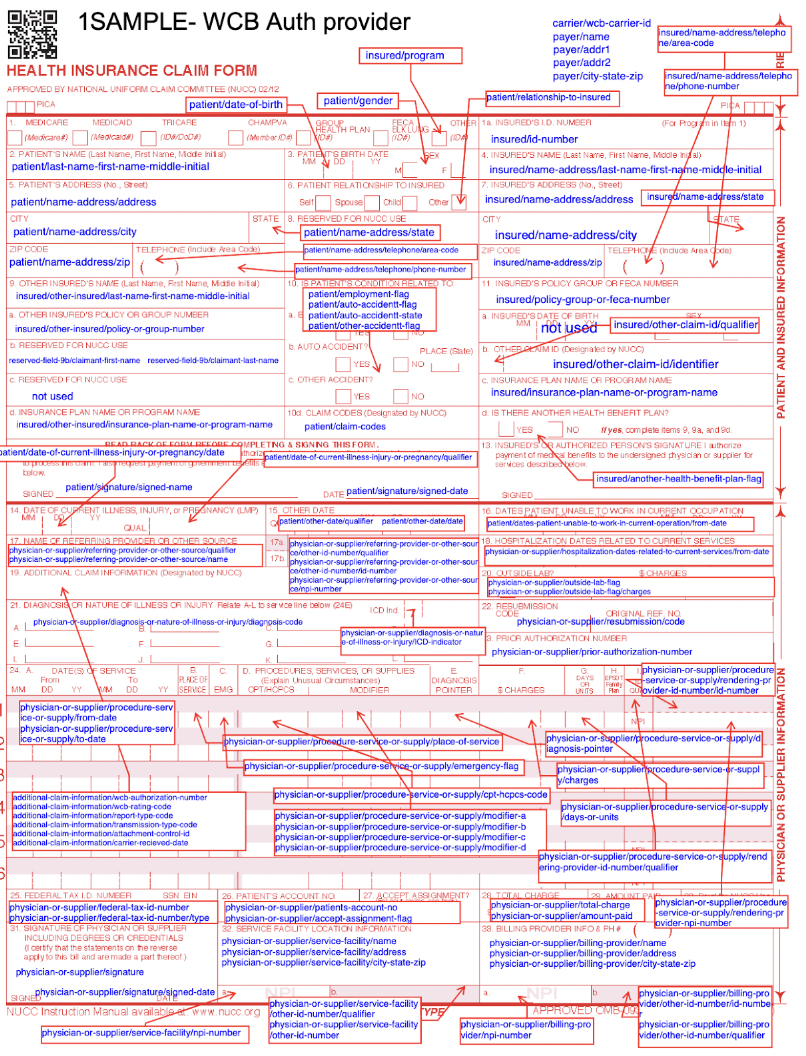 If it looks intimidating, rest easy! That's what your XML Submission Partner is for — to help your office meet the technical requirements, so your practice can submit e-bills for treatment provided to injured workers.
Non-Electronic Billing for NYS Workers' Comp
While the WCB is heavily invested in encouraging providers to switch to e-billing (and while e-billing is an indisputable boon to any practice that treats injured workers), in NYS e-billing remains optional for providers.
Note that accepting e-bills from providers is not optional for claims administrators; all payers must accept e-bills from providers.
For providers who choose to send bills non-electronically, these providers must send the WCB a copy of each medical and the medical report as follows:
Mail:
NYS Workers' Compensation Board
Centralized Mailing Address
PO Box 5205
Binghamton, NY 13902-5205
Email:
Web Upload Service:
http://www.wcb.ny.gov/content/main/Forms.jsp
We welcome all e-billing questions from New York State providers. Simply contact daisyBill, and we'll be happy to share our expertise.
---
Need a hand making the transition to workers' comp e-billing? daisyBill makes it easy. Reach out to see how we can help your practice.