Third-Party Administrator (TPA) Sedgwick Claims Management Services consistently ignores California workers' comp requirements for properly responding to Second Review appeals sent by providers to dispute incorrect reimbursements.
Since 1/1/2019, daisyBill data reveals Sedgwick failed to adhere to California Second Review regulations for 35% of the appeals submitted by our clients. Routinely, Sedgwick either: 
Fails to send the provider an electronic Explanation of Review (e-EOR) as mandated by California regulations, or

Falsely

denies

 the appeal as

duplicate

 

bill

 submission of the original bill, instead of responding to the Second Review appeal.
Of course, daisyBill has the data to prove it. Moreover, a Sedgwick representative acknowledged the false "duplicate" assertion in at least one case (see transcript below).
By falsely identifying Second Review appeals as duplicate bills, and failing to send compliant EORs, Sedgwick ignores California regulations mandating claims administrators respond to Second Review appeals with a "final written determination on each of the items or amounts in dispute by issuing an [compliant] explanation of review."
By disregarding the law, Sedgwick makes a mockery of California workers' comp — and leaves providers without a viable way to pursue correct reimbursement. daisyBill has submitted 16,261 Audit Complaints to the Division of Workers' Compensation (DWC) to report Sedgwick's apparent business practice of ignoring Second Review requirements.
Data: Sedgwick & Second Review
In response to 16,261 Second Review appeals daisyBill clients submitted to the TPA, Sedgwick ignored California regulations mandating that claims administrators respond with a final written determination on each of the items or amounts in dispute by issuing a compliant EOR sent electronically. 
The table below reflects Second Review submission data for Sedgwick, from January 1, 2019 to April 30, 2022. In that time frame, Sedgwick incorrectly denied daisyBill providers' Second Review appeals as "duplicate" bill submissions 4,930 times, while also failing to respond with a compliant electronic EOR and dispute determination to 11,331 Second Review appeals sent by daisyBill providers.
| | | |
| --- | --- | --- |
| Date Range: 1/1/2019 - 4/30/2022 | Bill Count | % of Total Appeals |
| Second Review Appeals Submitted to Sedgwick | 45,945 | 100% |
| | | |
| Sedwick Failed to Send Electronic EOR | 11,331 | 25% |
| Sedgwick Improperly Denied as Duplicate Bill | 4,930 | 11% |
| Total Sedgwick Non-compliance | 16,261 | 35% |
In total, since 1/1/2019, Sedwick failed to compliantly process 35% of the Second Review appeals compliantly submitted by daisyBill providers.
Sedgwick's failure to respond appropriately to Second Review appeals leaves no viable payment recourse for the doctor. Since California imposes no consequences on Sedgwick for this non-compliance, Sedgwick's profits increase — because Sedgwick simply keeps the doctor's disputed reimbursement.
Sedgwick's "Duplicate" Duplicity
California Code of Regulations Section 9792.5.5. dictates that a doctor timely adhere to a series of complex steps to submit a Second Review appeal. Failure to comply with any of the steps below allows the claims administrator to retain the doctor's reimbursement:
Submit the Second Review appeal to the claims administrator

within 90 days

of

 receipt of the EOR,

Submit the Second Review in the

same manner

 as the Original bill was submitted (electronically or on paper),

Submit a completed

DWC SBR-1 Form

, and

Submit a properly amended Original bill (further instructions below)
The regulations allow Sedgwick to ignore all Second Review appeals not submitted in accordance with the requirements above. Effectively, California's provider-punitive appeal requirements allow Sedgwick to penalize doctors for failing to comply with Second Review regulations, while simultaneously rewarding Sedgwick with the revenue owed to the doctor.
Yet no such automatic consequences apply to the claims administrator. Routinely, Sedgwick simply stamps "duplicate bill" on Second Review appeals, without providing a written determination on each item.
As we demonstrate below, it is completely implausible for Sedgwick to dismiss any of the 4,930 Second Review appeals from daisyBill as "duplicate" bills. Yet, Sedgwick made that mistake over and over, to its immense profit — and at the immense expense of doctors, who lose time and resources submitting these complicated, but fruitless appeals.
Once Sedgwick denies a Second Review appeal, the doctor's only option is to pay $180 to request Independent Bill Review (IBR). To file 4,930 IBR requests, collectively doctors would owe approximately $887,400 in IBR fees (not to mention the enormous administrative burden of requesting IBR). As a result, providers often (and correctly) conclude that it's less costly to simply capitulate to Sedgwick's duplicate duplicity.
For one Second Review appeal that daisyBill called Sedgwick about, Sedgwick's own representative admitted that the Second Review appeal was "not a duplicate" [bill], and offered to reprocess.
| | |
| --- | --- |
| Speaker | Call Transcription - (After being on hold for 54 minutes) |
| Sedgwick | I can see where...the adjuster said to — someone — put in here to process it, it's okay to pay. Approved out of network — all that fun stuff. It just didn't — somebody saw it said, "Oh, duplicate," and because of another time that it had gone through, but it's not a duplicate. And that was way back in June of 2021, so like, literally a year ago. |
| daisyBill | Mm-hmm. |
As the data in this post reveals, the duplicate denial above was not an isolated incident. This is apparently a (profitable) Sedgwick business practice.
Second Review Appeals: (Very) Hard to Mistake For Duplicate Bills
Any grade-schooler can learn to identify a Second Review appeal. See below just how easy it is, using as an example just one of Sedgwick's brazen refusals to pay for authorized services.
First and most obviously, the Second Review Appeal includes the mandated form, the SBR-1.  This document has no purpose other than to request Second Review, and cannot be mistaken for a duplicate bill or any other supporting document.
Below is a sample of the SBR-1 sent to Sedgwick for all 4,930 Second Review appeals incorrectly denied as "duplicate" bills.
Second, the universal CMS-1500 billing form includes two fields providers must complete when resubmitting a bill for Second Review. The California Division of Workers' Compensation (DWC) Medical Billing and Payment Guide instructs providers to use code 'BGW3' in box 10d of the CMS-1500 for a "Request for Second Review."
Below are screenshots from the DWC Guide, as well as the CMS-1500 forms submitted to Sedgwick for Second Review.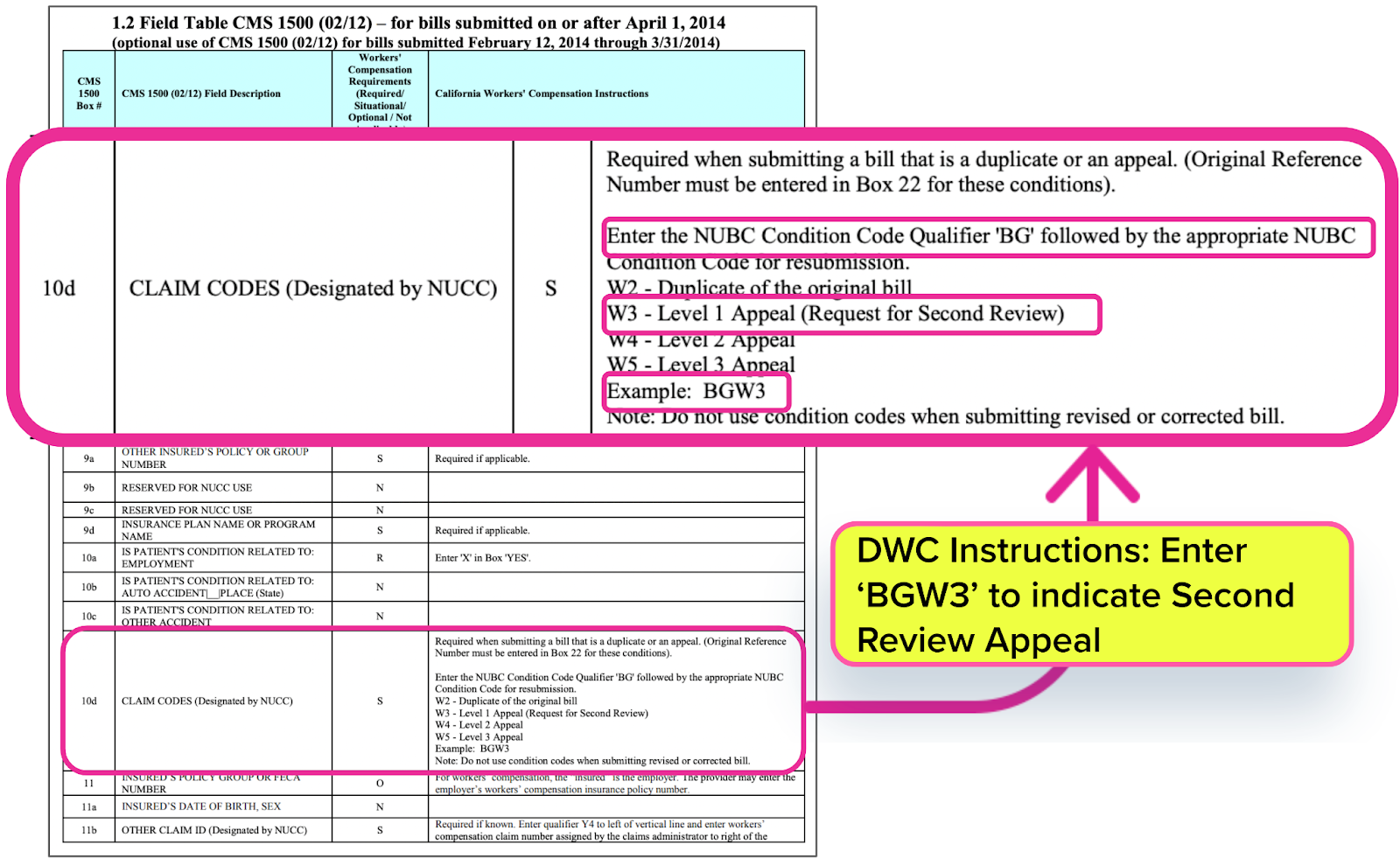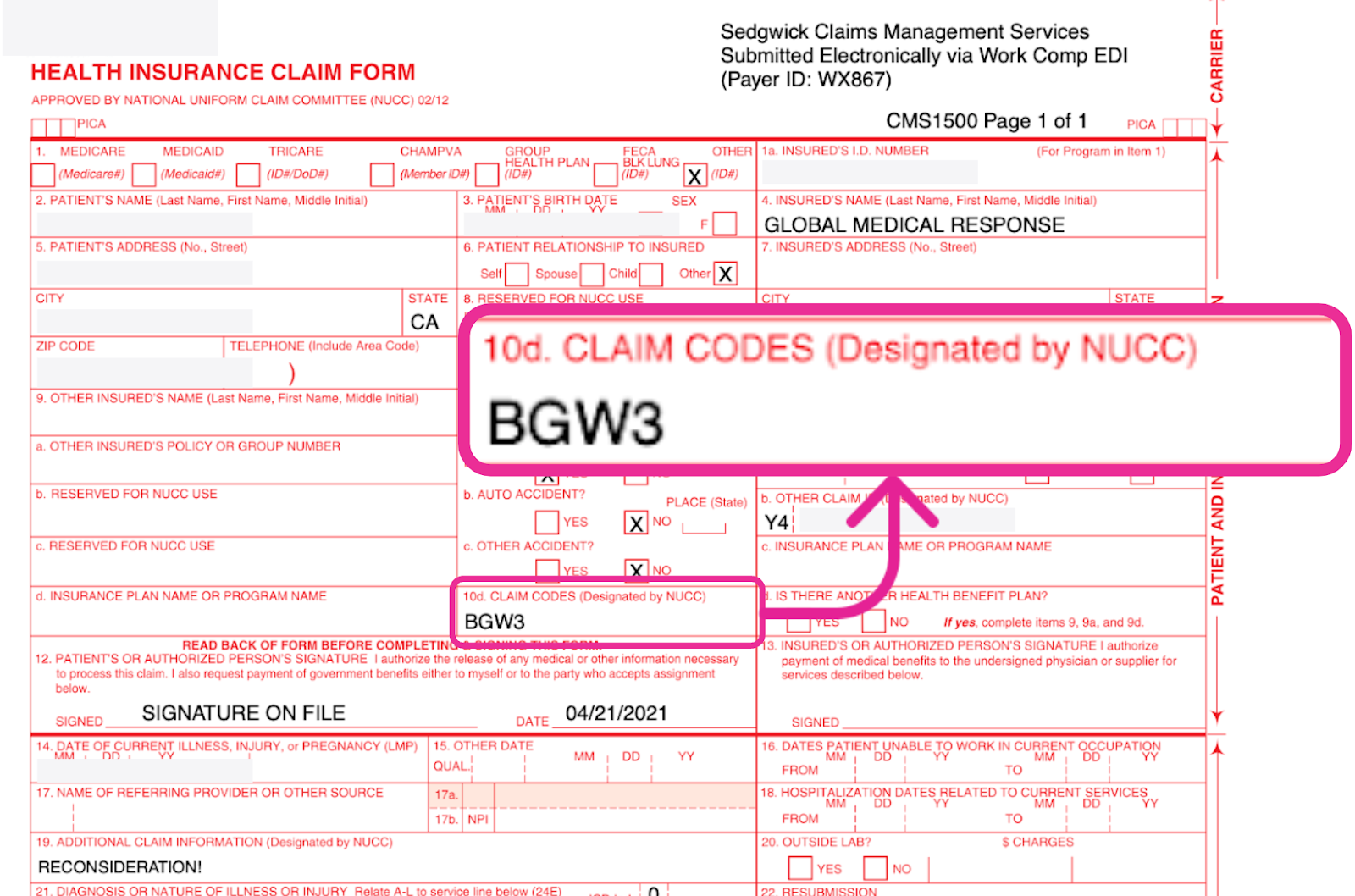 The Billing Guide also instructs providers to enter resubmission code 7 for "Replacement of prior claim (bill)" in box 22 of the CMS-1500, along with the bill's original reference number assigned by the claims administrator.
Again, this leaves no question as to whether the bill is a duplicate or Second Review appeal.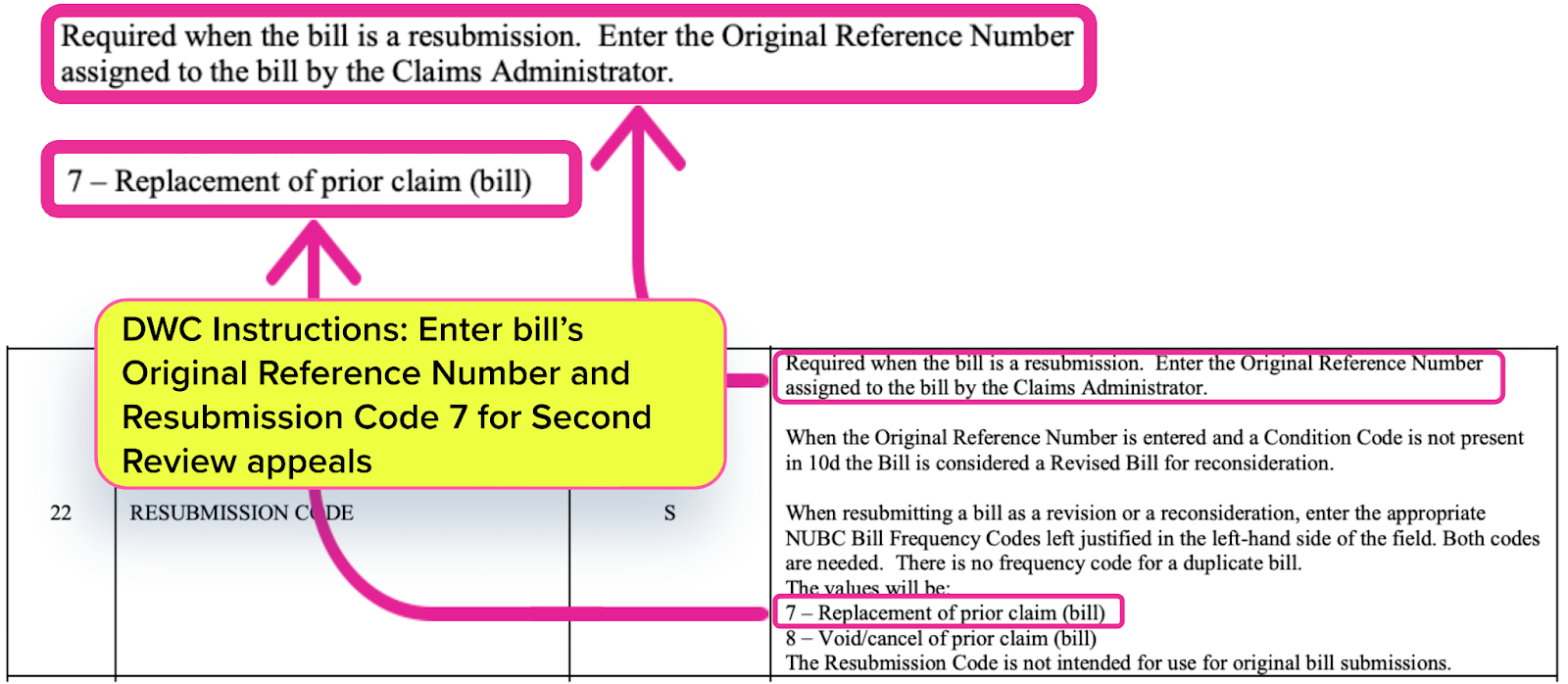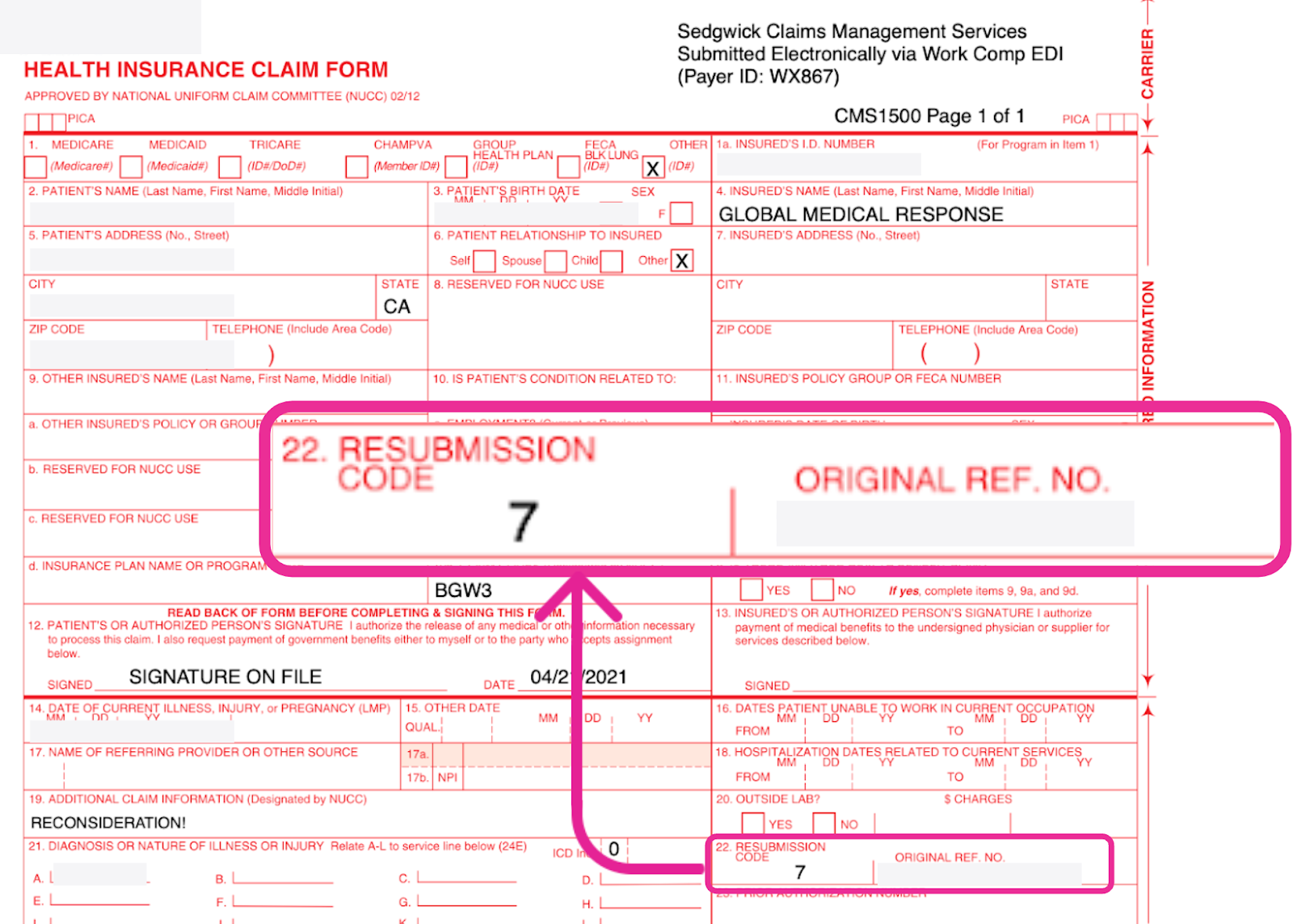 When daisyBill providers submit a Second Review appeal, daisyBill software automatically populates the CMS-1500 as outlined above. In addition, daisyBill also automatically enters "RECONSIDERATION!" (yes, complete with punctuation) into the optional box 19 of the CMS-1500 for "Additional Claim Information."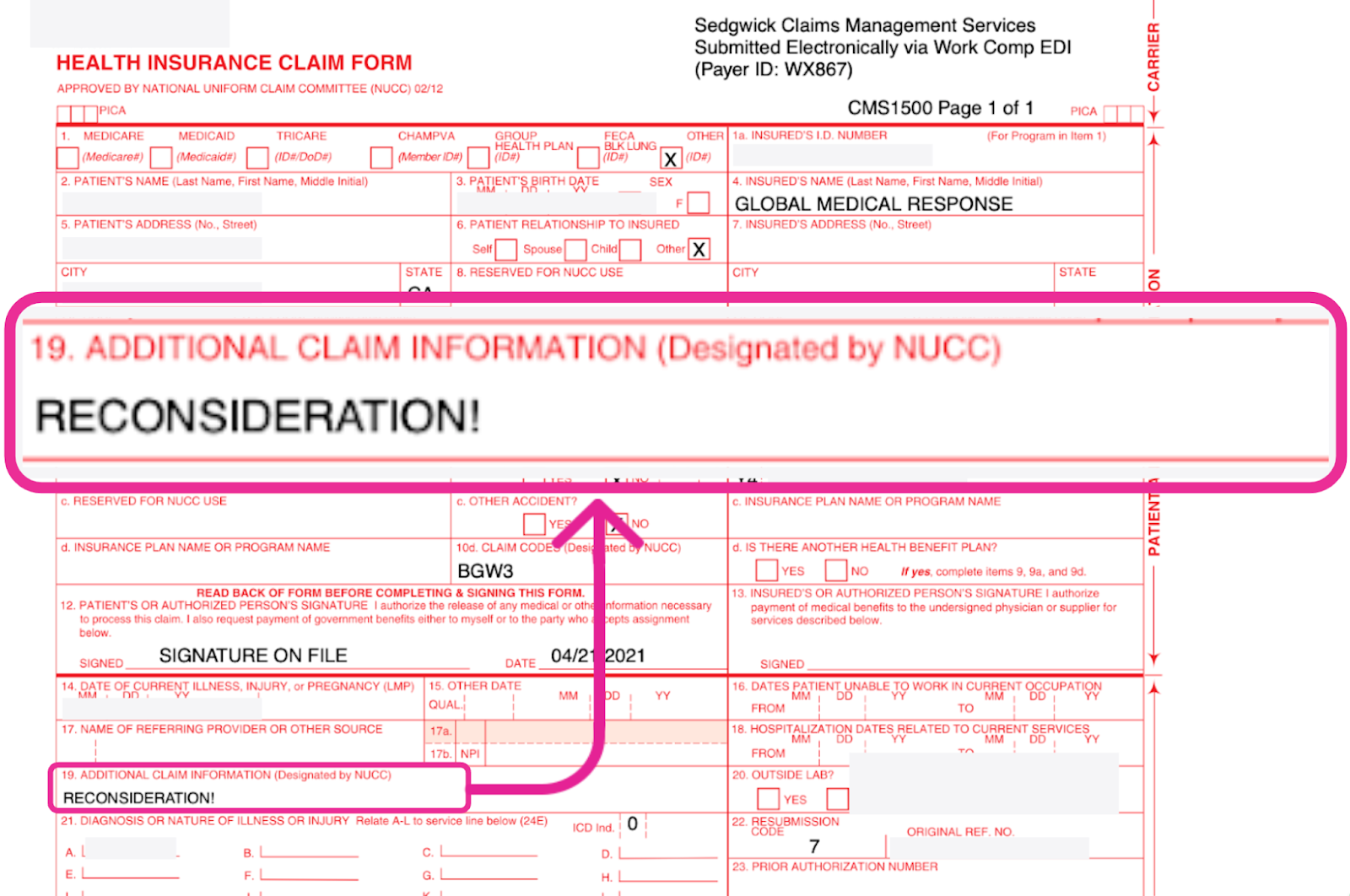 We couldn't make it any easier for Sedgwick and other claims administrators to recognize a Second Review appeal. Which is why it's difficult to comprehend how Sedgwick could possibly get it wrong as often as they do — as in Sedgwick's final EOR below.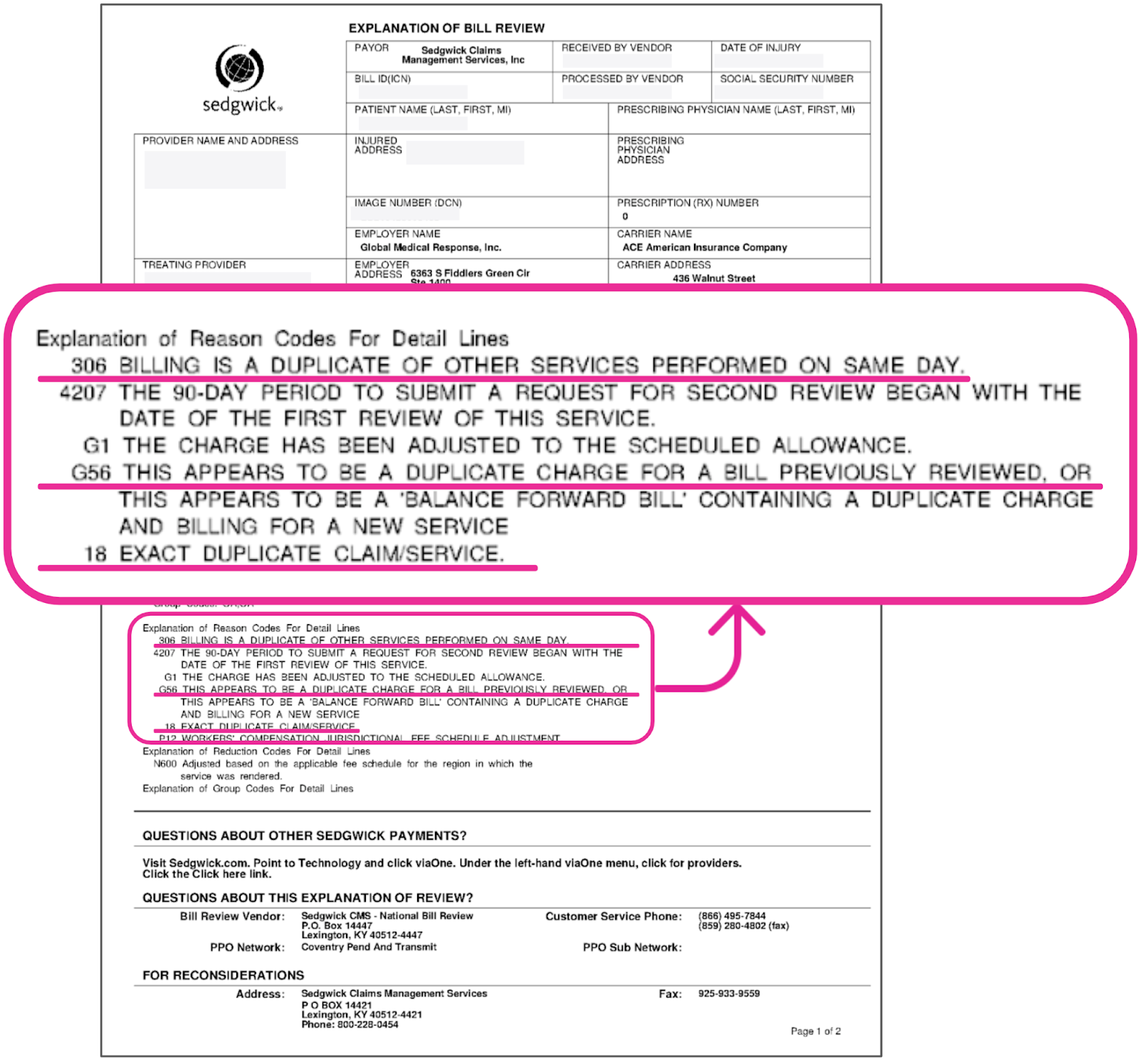 Unfortunately for the doctor who submitted the appeal above,
Sedgwick denied the Second Review appeal as a "duplicate bill," and

California's

IBR liability loophole

 allowed the DWC to rule the dispute ineligible for IBR, because Sedgwick raised (false) payment liability issues, including the (false) allegation that the doctor was not in the employer's Medical Provider Network (MPN).
What will it take to put a stop to this?
daisyBill filed 16,261 Audit Complaints with the DWC to report Sedgwick's disregard of California law and failure to properly process Second Review appeals. We can only hope that this irrefutable data is enough to spur California to stop prioritizing Sedgwick's profits over reimbursing doctors for treating California's injured workers.  
---
Protect your practice. Harness the power of daisyBill software, data, and expertise for faster, better workers' comp billing.